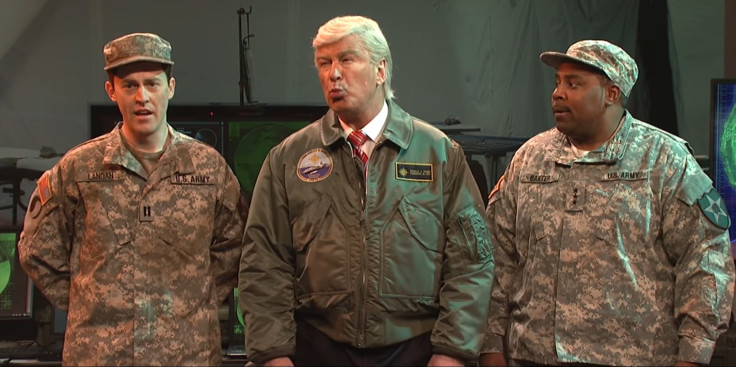 Saturday Night Live reset its sights on the Trump administration, as Alec Baldwin returned to parody the US president, while Hollywood actress Scarlett Johansson impersonated his daughter Ivanka Trump.
Baldwin's sketch opened the show in left-field fashion, using an alien invasion to address the president's new immigration order.
Set in 2018, in a scenario similar to Independence Day, the otherworldly beings have not "come in peace" and need to be aggressively attacked.
"Now here's the deal," Baldwin's Trump says. "We are going to beat these aliens because we have got the best military, but we don't win anymore. And the aliens are laughing at us. They're killing us and they're laughing at us."
His solution, in a similar vein to Trump's real-life promises to build a wall on the Mexican border and come up with a plan to defeat Isis within 30 days, fell similarly outside the status-quo of previous government policies.
"Bring coal back," he demands, in a nod to the president's speech at CPAC, "We're going to have so much coal you're going to say, 'Where did all this coal come from? I never knew there could be so much coal.'"
However, the plan, perhaps unsurprisingly fails to work. But when told California has been vaporised, Baldwin's Trump simply replies at least he finally won the popular vote.
And, ever on the lookout for a positive spin irrespective of reality, Trump quickly changes tack upon losing to the aliens of planet Zorblatt 9.
"I've actually heard Zorblatt 9 is very beautiful, very fantastic," he croons.
"Oh my God, does he have business ties on Zorblatt 9?" one soldier asks.
The space-bound narrative marked a departure from previous skits, but felt necessary as audiences faced Baldwin's impersonation for the fifth time since the presidential election in November 2016.
In one final jab, the skit also took aim at the discredited news sources cited by Trump despite his rallying cries accusing media outlets of running "fake news".
"I actually heard the aliens are already here," says the former business mogul. "They have been hiding in this country for hundreds of years."
His source turns out to be InfoWars with Alex Jones, whose conspiracy peddling news channel has partly legitimised by Trump's ascension to the Oval Office.
When the aliens do arrive asking "Take me to your leader," they are relieved when they see that leader is Trump. "Really? This is going to be so easy!" they cry.
The latest instalment in the politically charged SNL series may mark one of Baldwin's final appearances, as the 58-year-old actor recently suggested he will soon quit the role.
Speaking to Extra the Emmy-winning 30-rock actor said: "His policies aside, which you can hate, I thought he would have just relaxed. The maliciousness of this White House has people worried, that's why I'm not going to do it much longer, the impersonation. I don't know how much more people can take it."
In a bid to keep the concept fresh, which has seen ratings peak at a 22-year high of 10.6m viewers, producers are now involving celebrity hosts, with this week's edition featuring Scarlett Johansson.
Playing Trump's daughter Ivanka, who acts as a special adviser to her father, the star featured in a spoof perfume advert titled Complicit.
Hitting out at the business graduate's failure to speak out against her father, a voiceover stated:
"A woman like her deserves a fragrance all her own. Because she's beautiful. She's powerful. She's… 'Complicit.'
"A feminist, an advocate, a champion for women, but… like… how?" it asked, before cuttingly concluding: "The fragrance for the woman who could stop all this, but won't."