For years now major tech companies have been seeking ways to disrupt the television market, but without the support of broadcasters, all have failed to make a serious impact on the traditional way we view TV.
Now Google, one of the most powerful tech companies out there, is ready to make another assault on the living room.
Documents seen by The Verge have revealed details about Android TV, the company's new interface built specifically for large screens which will give viewers instant access to Google's library of content, including music, TV and films - as well as potentially games.
The full details are likely to be revealed by the search giant at its annual developer conference - Google I/O - on 25 June but the leaked details come just days after Amazon announced its Fire TV set-top box, which is nominally built on top of Android but features none of Google's services, pointing instead to Amazon's own content, as well as a host of third-party apps like Netflix.
Details about the hardware, price and release date for the device are as yet unknown, though like Fire TV, Google is likely to launch Android TV in the US first.
Fun, fluid, fast
The leaked documents say: "Android TV is an entertainment interface, not a computing platform. It's all about finding and enjoying content with the least amount of friction," adding that it will be "cinematic, fun, fluid, and fast."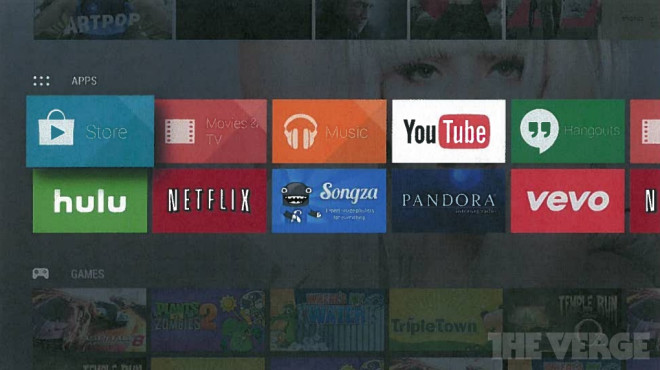 The interface is stripped down and simple compared to the cluttered mess that was Google TV. Cards will represent films, TV, music, games and apps and users will be able to flick between them using a remote with a four-way directional pad.
The remote will also have Enter, Home, and Back buttons to help navigation through the interface, and there will be "optional" game controllers.
Android gaming is already available through dedicated boxes like the Ouya, and Amazon revealed last week that it will be bringing Android games to your TV via the Fire TV box.
Google is already working with developers to create equally simple apps to work on the platform with Netflix, Hulu and Pandora among the partners already confirmed.
Google TV and Chromecast
This isn't Google's first attempt to capture the TV market, with the ill-fated Google TV launched in 2010, which was essentially Google's attempt to transform smartphone interface onto your TV.
While Google had high hopes for the platform - executive chairman Eric Schmidt once said that by 2012 it would be on the majority of TVs - the project never took off and reports last October suggested it would soon be rebranded as Android TV.
The on-demand TV market is an already crowded marketplace, with Amazon's Fire TV box joining the likes of Apple TV and Roku as well as game consoles like the PS4 and Xbox One which all offer a similar
These are also joined by Google's popular - and cheap - Chromecast dongle which allows you stream content from your smartphone, tablet and laptop to your TV.
The Verge reports that the Chromecast is likely to remain on sale alongside Android TV.
Google is clearly looking to leverage Android across as many platforms as possible, with the company recently revealing Android Wear, another version of the software built specifically for wearable devices, with several smartwatches using it launching this year.
While Android TV certainly looks like a clean simple interface, it looks like just another option in the already crowded marketplace for accessing on-demand TV, and until companies like Apple or Google get the support of broadcasters such as Sky, and are able to integrate their services into a single interface, the TV market will remain fragmented.