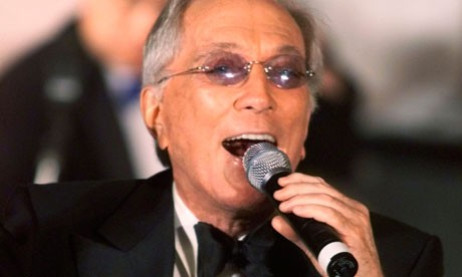 Stars have paid tribute to legendary crooner Andy Williams who has died from bladder cancer.
The singer passed away at his home in Branson, Missouri, after a year-long battle with the disease. He was 84.
Williams, who found fame in the 60s, is best known for his recording of Moon River, the Oscar-winning song featured in the film Breakfast at Tiffany's.
Although the classic tearjerker has been covered by numerous artists, Williams insisted that it was his tune.
"When I hear anybody else sing it, it's all I can to do stop myself from shouting at the television screen, 'No! That's my song!'" Williams wrote in his 2009 memoir, Moon River and Me.
With other hits including Love Story, Days of Wine and Roses and Can't Get Used to Losing You, he enjoyed a successful career over more than two decades. He also hosted the Grammys, the Golden Globes and the People's Choice Awards numerous times and had his own TV programme, the Andy Williams Show.
"He had perhaps the most beautiful male voice ever. Perfect pitch," singer and chatshow host Kathie Lee Gifford said.
Robbie Willaims tweeted: "God bless Andy Williams. RW x."
In November 2011, Williams announced during an appearance at the Moon River Theatree that he had cancer.
"I have cancer of the bladder. [But] people with cancer are kicking it, and they're winning more and more every year. And I'm going to be one of them," he told the audience.
He is survived by his wife, Debbie, and three children, Robert, Noelle and Christian.
His family have asked for donations to the Bladder Cancer Advocacy Network.