One of Hollywood's most beloved couples is no doubt basking in happiness today – Angelina Jolie and Brad Pitt are celebrating their one-year wedding anniversary. After 10 years of playing coy when quizzed on when they would tie the knot, Pitt, 51, and Jolie, 40, married in a secret ceremony at their French chateau on 23 August 2014. Gushing about the new chapter of their lives, the couple told Hello! magazine at the time: "It was important to us that the day was relaxed and full of laughter. It was such a special day to share with our children and a very happy time for our family."
Body language and relationship expert Judi James suggests that as the couple had already been together for a decade, living as husband and wife was most likely no different than before. James told IBTimes UK: "It's probably because these two didn't need to get married but still did that they might have weathered that all-important first year, possibly without even noticing its passing."
Brangelina's first year as a married couple has certainly been an interesting one, filled with plenty of hurdles, happy times and, of course, their six children to keep them busy. In celebration of their anniversary, IBTimes UK takes a look back at the key moments in Pitt and Jolie's first 12 months as man and wife ...
A working honeymoon
Not many couples plan to spend their first days as a married couple working exhaustive hours and with dozens of people joining them, but that is exactly what the Pitts did. The couple got straight to work on shooting their new movie By The Sea, in which they both star. The Tomb Raider actress admits that it was not the most ideal way to spend their honeymoon, given that the newlyweds had to film an intense argument scene.
She told Entertainment Weekly: "It was an emotionally charged set. Even though the characters are very different from us, when you act you still express real emotion. It's impossible to bring your work home with you when you have to snap out of it for your children. It wasn't easy for either of us, but when we walked away, we were closer than we had been."
According to James, mixing business and pleasure was always going to be a risky move for the couple, who hadn't worked together until 2005's Mr & Mrs Smith. The expert explained: "Making their second movie together since Mr & Mrs Smith could have been an achingly bad decision at any stage in their relationship, mainly because working together as two leads can always stretch tempers to breaking point, and if the film does happen to bomb you can only blame your co-star, which is dodgy if you're married to them." After more than a decade together, the Pitts can most likely handle it.
Post-wedding bliss
Five months after getting married, the Maleficent star admitted in January 2015 that while marriage is not entirely easy, she and the 12 Years A Slave producer have made it a priority to spend enough time together as a family with their children. Jolie told The Australian Women's Weekly: "Maintaining a marriage and raising kids is hard work. You have to really make sure that your work doesn't get in the way. That you don't do something that is going to put too much strain on your family."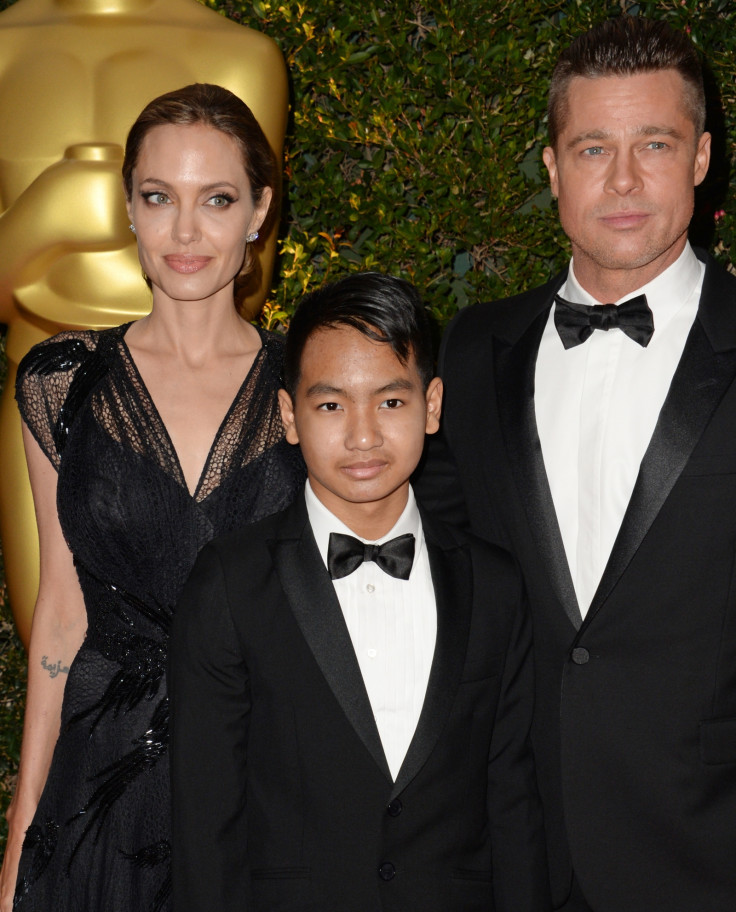 Jolie makes brave health decision
In an honest piece published in The New York Times in March 2015, Jolie revealed that she had her ovaries and fallopian tubes removed in a bid to prevent the risk of developing ovarian cancer. Explaining her decision, Jolie wrote: "My doctors indicated I should have preventive surgery about a decade before the earliest onset of cancer in my female relatives."
She later added: "Regardless of the hormone replacements I'm taking, I am now in menopause. I will not be able to have any more children, and I expect some physical changes. But I feel at ease with whatever will come, not because I am strong but because this is a part of life. It is nothing to be feared." Of course, the actress had the full support of her husband whom she said cut short his trip to France and "was on a plane within hours".
Watch the trailer for Brad Pitt and Angelina Jolie's new movie, By The Sea:
Double dating with royalty
Hollywood royalty met actual royalty in June 2015 when Brangelina had afternoon tea at Kensington Palace with Kate and Wills, aka Kate Middleton and Prince William. So what would one talk about during such a high-profile lunch? A Palace representative revealed: "They discussed their shared interest in combatting the illegal wildlife trade." A source also told Us Weekly: "Everyone got on splendidly. Brad and Angelina spent much longer with the Duke and Duchess than planned. They ended up staying for almost a few hours."
What does the future hold for the Pitts?
Although celebrity marriages typically have a short lifespan, James remains confident that the actors can beat the Hollywood curse: "Perhaps these two are different. Perhaps the number of offspring they have plus the amount of time they spent mulling over the idea of getting wed will have created a unique cocktail of circumstances that will mean they'll happily be making movies together well into old age and beyond." No doubt Brad and Angelina are in it for the long haul!