In October, it was revealed that Marvel and Disney Studios had approached Ant-Man director Peyton Reed to lead the sequel titled Ant-Man and The Wasp, and while nothing is confirmed yet, it looks likely that the self-confessed comic book enthusiast will return, given that he's already explained where he wants to go with the follow-up.
With original lead actors Paul Rudd and Evangeline Lilly already signed on, the whole affair is looking to be an on-screen reunion, but it wouldn't be complete without Michael Douglas's genius scientist Hank Pym now, would it? Fear not, comic-book movie continuity enthusiasts, as the Wall Street star has revealed he's already been in touch with the studio bosses who oversee the Marvel Cinematic Universe.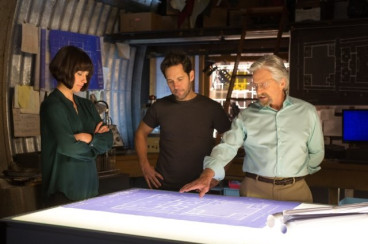 "I got a call recently – they want to negotiate for a sequel and I thought 'that's great!'," Douglas told Collider. "Hopefully, I won't have to carry quite as much expositional dialogue as the first one but I had a wonderful time doing it. Just a great, great time.
"The cast was fantastic. Paul, Evangeline, Michael Pena – I'm sure he'll be back. If they can scrape Corey Stoll off the wall, I'm sure they'll want him too – he's such a good villain. And Peyton too. It was a lovely experience, so you know, I welcome it."
While he seems keen to return, the 71-year-old admits that he finds Marvel's typically drawn-out and set-in-stone plans a little bewildering. "I chuckle about being involved with a movie that already has a release date in 2018," he said. "You know, it's hard to conceive of that, but it's all good, all the way around, it's all good".
Ant-Man and The Wasp won't reach cinemas until July 2018, but some of the characters are likely to be seen in planned movies before then within the MCU.
Rudd's Ant-Man, aka Scott Lang, is confirmed to appear in 2016's Captain America: Civil War, further integrating the Ant-Man universe with the much larger and longer-established Avengers one.
For more entertainment news follow A-List on Twitter @Alistinsider