The most popular, commonly accepted battery-saving tip for iOS devices has been officially denied as having any effect on your iPhone or iPad's ailing power longevity by an Apple executive.
Apple's Senior Vice President of Software, Craig Federighi, revealed the heartbreaking news in an email conversation with a 9to5Mac reader named Caleb. Although the query was initially directed at Apple CEO Tim Cook, Federighi cut in to put the controversial topic to rest with a simple, "no".
Here is the email chain in question that leaves no ambiguity on the topic of closing down unused app multitasking windows: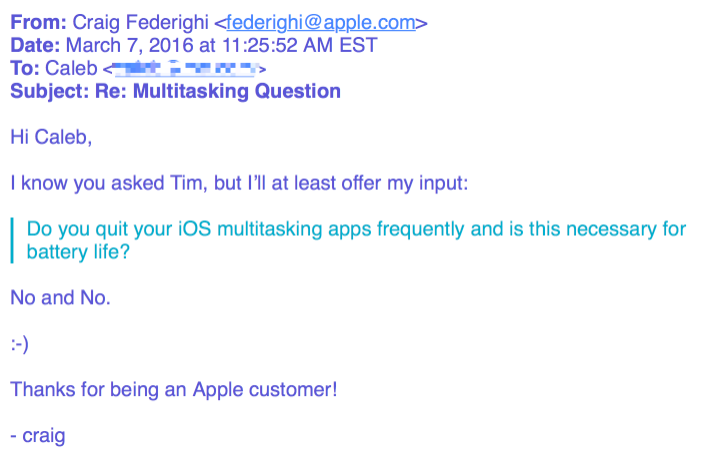 Anyone who travels regularly by public transport will no doubt have seen fellow passengers performing the 'trick' of double tapping the home button and swiping away idle applications, as iPhone users attempt to eek the last signs of life out of their Apple smartphones before the battery symbol reaches the dreaded red phase.
While there is seemingly a placebo effect to spending endless minutes swiping, 9to5Mac has outlined why exactly this has a negligible effect on battery performance, noting that: "On a technical level, most of the apps are either frozen in RAM or not running at all, the system just displays them as a history for consistency."
There are of course background apps that do affect battery-life such as apps that have notifications enabled which are frequently using data, GPS apps and music streaming among others.
Perhaps with this news the popularity of portable chargers will skyrocket, but it is more likely that the Apple-owning public will continue in the false mind-set that their futile swiping has little to no effect.