Heavy Rain and Beyond: Two Souls developer Quantic Dream appears to be teasing the announcement of its new project in one week's time.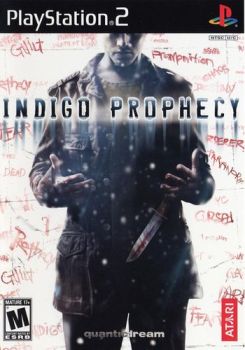 The website AChillingFeeling.com recently popped up leading to NeoGAF users speculating a connection to Quantic Dream's PlayStation 2 and Xbox game Fahrenheit, otherwise known as Indigo Prophecy.
Words scrawled on the website's background bare a similarity to those on Indigo Prophecy's cover art (right). That game's tag line was also "Guilt is a chilling feeling," which is the strongest indication of a long.
Quantic Dream had previously promised they would be announcing their next PlayStation exclusive in January.
Fahrenheit (rechristened Indigo Prophecy in North America) was an interactive, narrative-driven game similar to Quantic's follow-up titles Heavy Rain and Beyond: Two Souls. Released in 2005 it received good reviews, winning a handful of awards.
The studio and its creative lead David Cage have suffered from a case of diminishing returns, with 2013's Beyond in particular suffering from poor reviews despite its A-list cast led by Ellen Page and Willem Dafoe.
A return to the game that made them could be just what Quantic Dream need, but in the meantime we can only wait to see where this teasing countdown leads us.