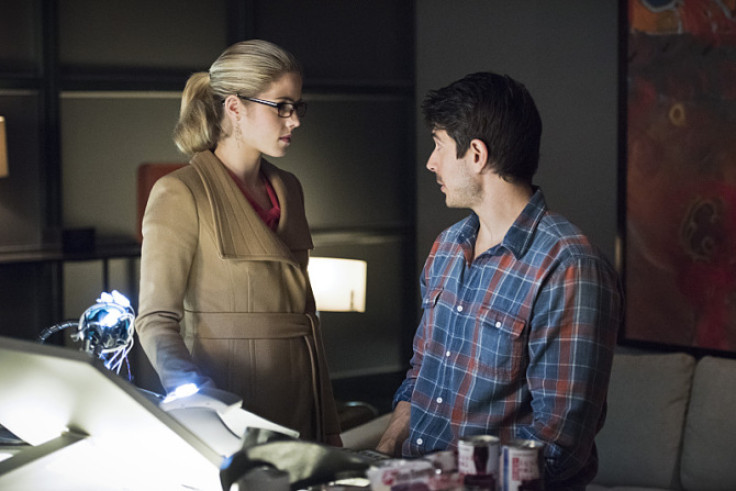 Arrow star Stephen Amell and Colton Haynes who play Oliver and Roy Harper, took to social media to tease an emotional goodbye scene in the upcoming episode.
Amell tweeted:
Sometimes real feelings creep into a scene. Goodbyes are tough. Even when they're scripted.

— Stephen Amell (@amellywood) March 3, 2015
Another Arrow actor, Colton Haynes also echoed the same sentiments and tweeted:
What a rough night. Probably the most difficult day I've had at work in my life. So many emotions all around that couldn't be controlled — Colton Haynes (@ColtonLHaynes) March 3, 2015
On the same day, Stephen Amell also talked about emotional, touching and heartfelt scenes in the 65th episode.
He wrote on his Facebook page, "Putting the finishing touches on our 65th episode tonight. It features one of the most emotional, touching and heartfelt scenes we've ever produced. Everyone was equal to the task. Long day, but a good one."
Now the question is who the goodbye was directed to, or what made the scene so emotional?
Is Felicity saying goodbye to Oliver for good?
In Arrow's Nanda Parbat, we saw Felicity taking care of Ray Palmer, and they ended up making love. Given the fact that Oliver never acted on his feelings for her, it is only obvious for Felicity to move on and she does.
The emotional scene could be about Oliver finding out about Felicity and Ray Palmer's relationship and about the fact that she took charge of her own happiness by dumping him.
Arrow's executive producer Andrew Kreisberg also talks about Felicity and Ray Palmer's future.
Olicity is taking a backseat to this new dynamic, Kreisberg told Access Hollywood.
"Part of the fun of watching couples on television is keeping them apart and watching how other people come in out of their lives. There are a lot of people who believe that Oliver and Laurel should be together, and people who believe that Oliver and Felicity should be together. We're not sure how it's all going to end up, we just do what's right at the time," he said.
"For right now, Oliver has decided that, 'I can't do this,' and Felicity's not just going to sit around waiting for him. She's probably the most healthy of all of them. He's the one who's shutting himself down emotionally when he has this amazing person who's basically offering him hope and guidance and friendship and love," the producer explained.
"He (Oliver) doesn't feel he deserves it and doesn't feel that that's what's best for her, whether she agrees with it or not. Then you've got Ray who, in a lot of ways, is a real analog to Oliver; he's had a tragedy and he is trying to do right by it but he's opening his heart to her and he's Brandon Routh — how can you blame her?" he added.