There was nothing brave about Arsenal as they departed the Champions League against Monaco, nothing valiant and little to be proud of. They played well and left with a well-earned 2-0 win over 90 minutes, but last 16 ties are played over two legs don't you know, and Arsenal's exit was entirely their fault.
In the Principality they turned in the kind of performance expected of them when the draw was made, but which they catastrophically failed to produce in the first leg at the Emirates, where they let in three but scored once to offer a glimmer of hope.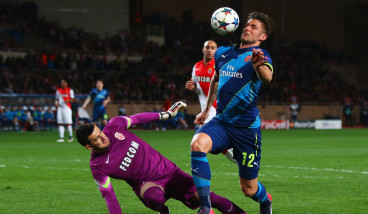 They still needed to claw back a deficit no other team in Champion's League has managed in the knockout stage before, and to date no team has come so close. Olivier Giroud and Aaron Ramsey's goals were hard-earned against the best defence in France and the tournament so far, but it wasn't enough.
There was pride to take in Arsenal's 2-0 away win over Bayern Munich two years ago because it was against a team they were never given a hope against, but on this occasion – losing on away goals as we did at the Allianz Arena – the team was expected to win the tie comfortably.
Mesut Ozil's commanding performance, Santi Cazorla's determined runs and Aaron Ramsey's great cameo were good to see, and fans can only hope the trio's fine form continues, but Arsenal fans should know all too well by now the unpredictable nature of this team. A dour performance against Newcastle at the weekend wouldn't, or rather shouldn't, surprise anyone.
Things have changed for Arsenal this season and there's a clear upward trajectory at the club, but Wenger may yet end up with a repeat of last season's achievements. The team is better and stronger, but a second consecutive FA Cup win and Champions League qualification are again the best we can hope for.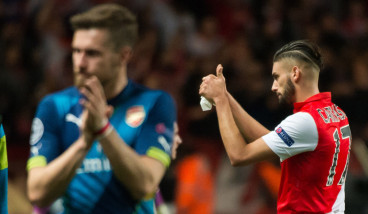 At best Arsenal may finish second and beat Liverpool in a Wembley final, and that would be meaningful progress, but the two legs against Monaco serve as a brutal reminder that this is still a team that could fall in bad habits at a moment's notice.
Arsenal remain just three points from fifth place with fellow form team Liverpool and Louis Van Gaal's baffling Manchester United biting at their heels. A top four scrap could yet happen with a couple of poor games, but after the past weekend's fixtures the focus was instead on us potentially catching Manchester City and mounting a last-gasp title challenge.
Unlikely, but it serves as proof that Arsenal this season exist on a knife edge between failure and success, a fourth place scrap and a title push, between true progress and the same old s**t.