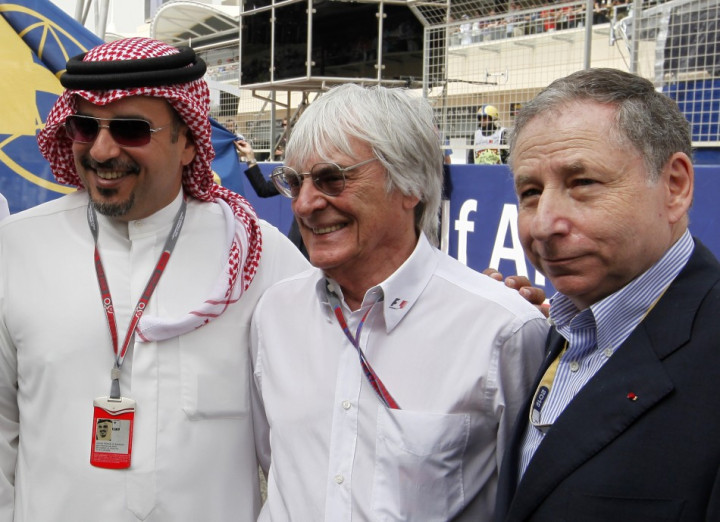 Bahraini police have clashed with pro-democracy demonstrators who put up makeshift roadblocks and barricades of burning tyres to protest against this weekend's Formula 1 Grand Prix.
Protesters chanted "No. No to blood Formula" and "Your race is a crime", while riot police fired tear gas canisters and stun grenades at them.
Tensions have heightened ahead of the controversial race in Bahrain after authorities launched a crackdown on opposition activists, with local sources reporting increased house raids and arbitrary detention of protesters.
Police fired tear gas and clashed with students during a raid on Jabreya Secondary School for Boys in the capital Manama earlier this week. Students had staged a protest demanding the release of 17-year-old Hassan Humidan, arrested on Monday.
Formula 1 boss Bernie Ecclestone, who previously played down human rights concerns over the race, said that just like those who protest against Thatcher, "you will always get people that will want to make riots".
Jean Todt, president of motor racing's governing body the FIA, has said the race can have a "healing effect" in a letter to four prominent rights groups which have demanded the race be cancelled.
The Bahrain Center for Human Rights, the Bahrain Press Association, the Bahrain Youth Society for Human Rights and Campaigns Against Arms Trade, demanded the FIA repeat its decision of two years ago, when the Bahrain Grand Prix was cancelled following a bloody crackdown on peaceful protesters.
However Todt's letter read: "Sport and F1 can have a positive and healing effect in situations where conflict, social unrest and tensions cause distress."
'Conditions of Martial Law'
The British All-Party Parliamentary Group for Democracy in Bahrain also sent a letter to Ecclestone. It reads: "We request you cancel the Grand Prix. It is likely to attract as much negative publicity as last year.
"Since April 2012, many more people including children have lost their lives and the whole country exists in fear and intimidation.
"Last year's race was held under conditions of martial law. Three hundred protesters were arrested, some spending months in jail.
"I think most democratic-minded people would be appalled if you allowed the Bahrain leg of the Formula 1 championship to go ahead amidst the most atrocious human rights violations."
Anonymous has threatened to hack the websites of the Formula 1 Grand Prix and the Bahraini government in support of pro-democracy protests in the Gulf kingdom.