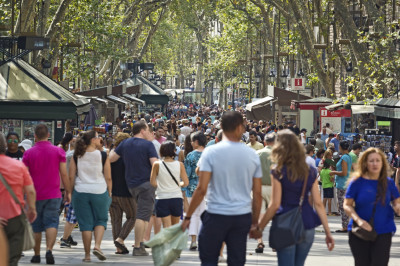 A shooting at a hotel metres from one Barcelona's busiest tourist streets has left two people wounded, including one in a serious condition, police said.
Spanish security forces have launched a manhunt for a masked gunman who opened fire outside the Hotel Silken, on the intersection between the world-famous La Rambla boulevard and the Pintor Fortuny street, on Tuesday (28 July).
The attacker apparently targeted two men who were standing outside the hotel entrance in the early afternoon.
One was shot in the abdomen and was taken to a local hospital in a critical condition. The second was injured by glass from the hotel door, which was shattered by gunfire.
As the assailant opened fire, the two victims rushed inside the hotel to take shelter and then fled the premises from an emergency exit at the back.
The man who was shot was helped by staff at a nearby souvenir shop while waiting for emergency services to arrive.
The gunman, who police say wore sneakers, long blue jeans, a black sweatshirt and a green ski mask, fled from the scene and is currently on the run.
Unconfirmed early reports suggested he was also injured by police. The reason for the attack is not yet clear. Police said the two victims were not guests at the hotel.