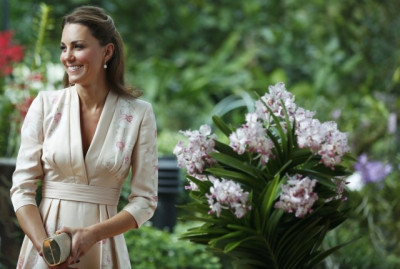 Style Queen Kate Middleton has revealed that she loves to shop at Bicester Village, the designer outlet complex in Oxfordshire.
The Duchess of Cambridge made the admission as she and Prince William arrived in Singapore at the start of a nine-day tour of the Far East.
The fashionista, who is known for her regal yet chic sense of style, talked affordable fashion with a dignitary.
Speaking to Sadiah Bte Shahal at Changi Airport, she expressed her fondness for the for the discount village, which is home to over 130 outlet boutiques.
"We talked about the UK and particularly about shopping at Bicester," Bte Shahal said.
"I said I've been there and I love it and she said she does as well.
"She said it's great how everything is so contained."
Bicester Village features designer brands such as Céline, Dior, Alexander McQueen, Prada and Mulberry.
It has become a firm favourite with tourists from Japan and the Far East on the coach route from London to Oxford.
IBTimes UK has a look at a few items from Kate's wardrobe that she could have got from Bicester Village.