'Ben Affleck f**k off': Actor dragged into Harvey Weinstein sex assault scandal, accused of lying
Affleck posted a statement via Twitter on Tuesday, condemning Weinstein's behaviour.
Hollywood's men have been accused of a late response when it comes to the ongoing Harvey Weinstein sexual assault scandal. Incidentally, when DC actor Ben Affleck joined the forces on social media to voice his feeling on the ongoing scandal, his response was met with criticism.
A long-time collaborator of Weinstein (Affleck has worked with the disgraced studio head on films like Good Will Hunting), the 45-year-old actor posted a statement via Twitter on Tuesday (10 October), after additional allegations of the assault were revealed.
He shared, "I am saddened and angry that a man who I worked with used his position of power to intimidate, sexually harass and manipulate many women over decades. The additional allegations of assault that I read this morning made me sick."
"This is completely unacceptable, and I find myself asking what I can do to make sure this doesn't happen to others. We need to do better at protecting our sisters, friends, co-workers and daughters. We must support those who come forward, condemn this type of behavior when we see it and help ensure there are more women in positions of power," he added.
However, Affleck's condemnation of the recently-fired The Weinstein Company founder failed to resonate with one particular actress, Rose McGowan – who has worked with the Batman actor in 1998 thriller Phantoms.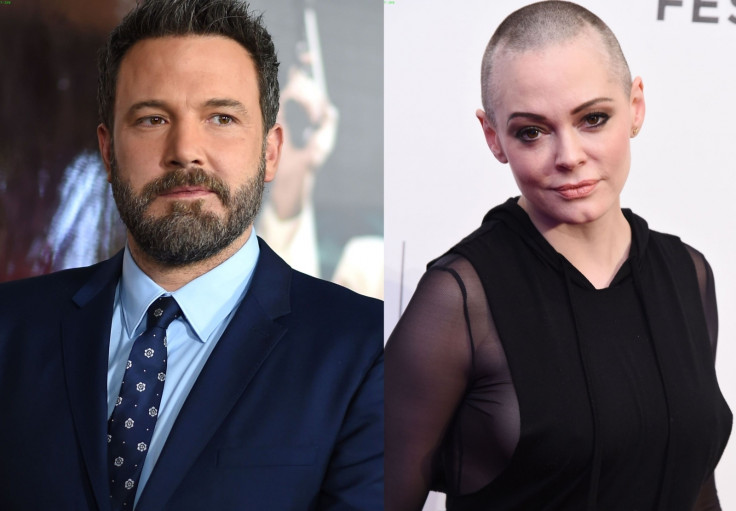 Not only did the 44-year-old Charmed actress slam Affleck's response, but also accused him of being aware of Weinstein's actions all along this time.
"@benaffleck 'GODDAMNIT! I TOLD HIM TO STOP DOING THAT' you said that to my face. The press conf I was made to go to after assault. You lie," McGowan shared in a tweet, captioned, "You want to play let's play #ROSEARMY."
In a separate tweet, the actress curtly responded, saying, "Ben Affleck f**k off."
The Twitter war also roped-in several other top guns into the loop including Affleck's brother Casey and long-time pal Matt Damon. While the Justice League actor is yet to respond to the allegations against him, Damon has denied any involvement with the Weinstein scandal.
"Even before I was famous, I didn't abide this kind of behavior.But now, as the father of four daughters, this is the kind of sexual predation that keeps me up at night," he said, according to Deadline.
© Copyright IBTimes 2023. All rights reserved.