Former EastEnders star Preeya Khalidas has hinted that viewers could soon see her reprise her role as Amira Massod.
Speaking to IBTimes UK's A-List at the press launch of the new Bend It Like Beckham Musical based on the 2002 film, the actress said that a comeback to the BBC soap was not off the cards.
"[Amira] is not dead is she, so you never know," said Khalidas.
Fans may recall that Khalidas' character was involved in one of the biggest love triangles in the soap's history after it was revealed that her fiancé, and later husband, Syed Massod, was gay and had been having an affair with Christian (John Partridge). When the gay couple went public with their romance, a heartbroken Amiria fled Walford. She reprised her role briefly in 2012, when it was revealed that Amira had a daughter.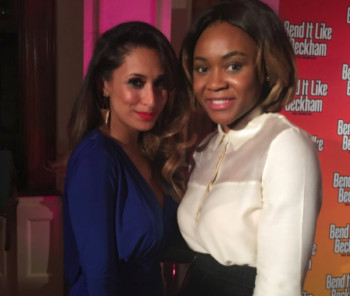 "Amira is in Birmingham having a nice time with her baby. I'm currently in London being fabulous on stage as Pinky," Khalidas said.
Khalidas, whose acting credits include East Is East, Bombay Dream, and It's a Wonderful Afterlife, is currently in the West End playing Pinky in the theatre adaptation of 2002 football movie Bend it Like Beckham.
She was one of the original cast members of the 2002 football film, which told the story of Jess, the 18-year-old footie-mad daughter of a Sikh family living in Southall, west London, whose dream of playing the beautiful game clashed with the cultural beliefs of her parents.
Having maintained a close relationship with the director and Bend It Like Beckham creator Gurinder Chadha, Khalidas said she felt "privileged" when she was called upon to play Jess's wedding-obsessed, fun-loving sister Pinky when the film-maker decided to take it from the screen to the stage. Thirteen years ago, she played Monica, a friend of Jess's.
"I feel really privileged to be part of that. I've been on the so-called Beckham journey for a long time. It's been quite a process to get to tonight. And to be one of the original members of the film is really special. We had two months rehearsal, so it's been intense. Literally it has taken over my life. I haven't seen or done anything apart from playing Pinky," said Khalidas.
While Khalidas has been busy showing of her acting chops, she hasn't given up on her singing career, telling fans to "stay tuned."
"I have obviously been busy doing this so it has been really difficult to get in the studio, but I'm hoping to get back in once this is sort of settled. And get my days back. It's hard work doing a show like this full time," said Khalidas.
The Bend It Like Beckman musical is showing at Phoenix theatre, London, until 24 October.