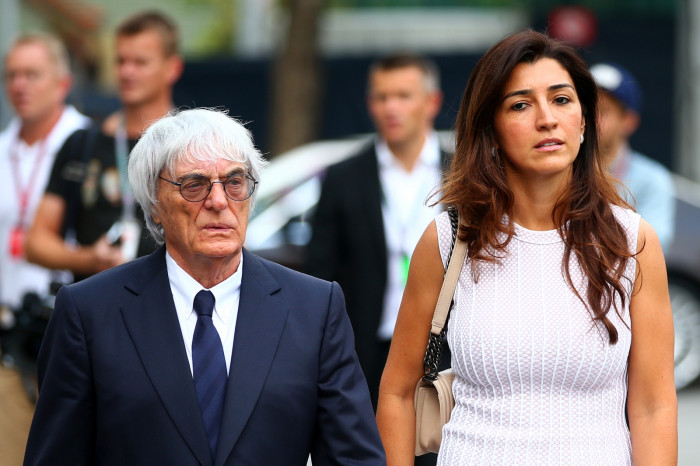 Formula One supremo Bernie Ecclestone has revealed how the kidnappers who snatched his mother-in-law Aparecida Schunck emailed a video of a woman being beheaded and threatened to send Schunck's head back in a brown paper shopping bag. Schunck, mother of Eclestone's wife Fabiana Flosi, was freed unharmed when armed police stormed a flat in the Brazilian city of Sao Paulo after a nine-day ordeal.
The kidnappers had demanded a £28m ($36.6m) ransom – later rising to £40m – to free Schunck, Ecclestone said, but he claimed he would have refused to pay. "All my friends know that I wouldn't pay a penny for a mother-in-law, although I'd say she's a good mother-in-law," the 85-year-old told the Sunday Times.
Ecclestone, who is worth an estimated £2.34bn, married Ms Flosi in 2012 when she was 35. He is 18 years older than his mother-in-law.
Two men suspected of abducting Ms Schunck, Vitor Oliveira Amorim, and Davi Vicente Azevedo, were traced after setting up a Yahoo account to contact the Schunck family. Azevedo's fingerprints were also found on Schunck's car.
Both men were known to police but, according to The Telegraph, had never been linked to such a major operation. Pilot Silva Faria has been arrested by Brazil police as part of their investigation into the kidnap plot. Elisabete Sato of Sao Paulo Police told the BBC that no ransom had been paid.
With the 2016 Olympics currently taking place in Brazil, there have been concerns the local police cannot manage the huge security operation to keep participants and spectators safe.
However, Ecclestone praised the work of police and after her release, Ms Schunck said: "I ask that bandits stop kidnapping people in Sao Paulo because they will be arrested."