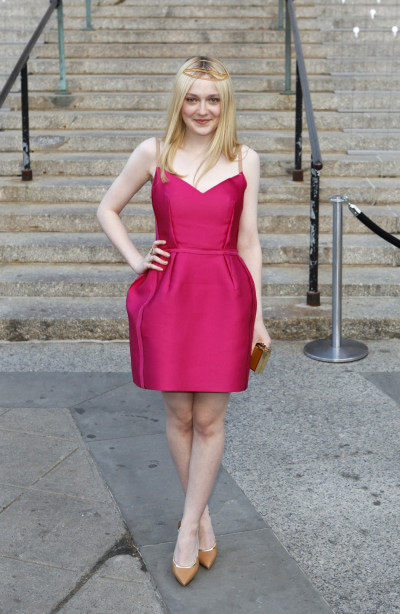 Hollywood's elites including Catherine Zeta Jones, Michael Douglas and Twilight star Dakota Fanning attended the annual Vanity Fair party held in New York City on 17 April, 2012.
The annual party marked the beginning of the 11th Tribeca Film Festival founded in 2002 by Jane Rosenthal, Robert De Niro and Craig Hatkoff in response to the September 2001 attacks on the World Trade Center.
The 2012 Tribeca Film Festival runs from 18-29 April.
Since its inception, the festival has reportedly screened more than 1,300 films from over 80 countries and has attracted an international audience of more than 3.7 million attendees.
From glamorous gowns to trendy evening dresses and couture creations, Hollywood's leading ladies brought glitz and glamour to the evening celebrations.
Most notable red-carpet head turners included Breaking Dawn actress Dakota Fanning who wore a beautiful Lanvin dress accessorised with thin golden bands that encircled her forehead.
To compliment her 'Greek goddess' look, she paired her dress with tan pumps and a beautiful gold minaudiere.
Other celebrities included in the best dressed list were Catherine Zeta Jones, actress Julia Louis-Dreyfus and actress Leelee Sobieski.
The event has thirty nine celebrities from different fields who will be part of the jury to decide on the winners of awards including, Best Narrative Feature, Best Screenplay, Best Cinematography, and Best Actor and Actress.
All the juries would be divided into six categories and will announce the winning films, filmmakers and actors in those categories.
Included in the list of jurors are Dakota Fanning, Kellan Lutz, Michael Moore, Patricia Clarkson, Hugh Dancy and Olivia Wilde. Producer Irwin Winkler would be the jury president.
"We are honoured to have this accomplished group dedicate the time and care it takes to view and discuss the films in competition this year," Tribeca Film Festival co-founder Jane Rosenthal said in a statement.
For the current year, there is reportedly more emphasis on independent foreign films in competition. Apart from this, the usual program line-up for the festival includes a variety of independent films including documentaries, narrative features and shorts, as well as a program of family-friendly films.
Start the slideshow and tell us which one is your favourite star at the Vanity Fair event: