Bette Midler has taken up Kim Kardashian West's challenge to "send nudes" and posted her own 'naked' selfie for charity. The actress unwittingly found herself caught in a spat with the Keeping Up With The Kardashians star, after she posted a comic reaction to Kim's latest naked selfie.
"Kim Kardashian tweeted a nude selfie today. If Kim wants us to see a part of her we've never seen,
she's gonna have to swallow the camera," she joked.
The reality star responded by saying: "hey @BetteMidler I know it's past your bedtime but if you're still up and reading this send nudes #justkidding."
The 70-year-old has gone one better, using the Twitter feud to raise money for a good cause, as she posted a digitally enhanced photo, showing her seemingly standing in lingerie in her bedroom, behind a cardboard sign in which she addresses the reality star directly.
It read: "Put your selfie to work...for a good cause! Donate, RT, I'll match $$ 2-1!" The tweet was linked to a fundraising page for Midler's charity Stages for Success, which helps transform school auditoriums.
Just before she posted the photo, Midler wrote: "@KimKardashian wants me to send her my nudes! I'll send them right over but the lighting's bad right now since she threw all that shade!"
The Kardashian star's offending nude selfie has sparked a debate on social media, dividing opinion, with celebrities such as Pink, Piers Morgan and Chloe Moretz slamming the star for setting a bad example to women while Amber Rose and Beyonce were among the famous names who leaped to her defence.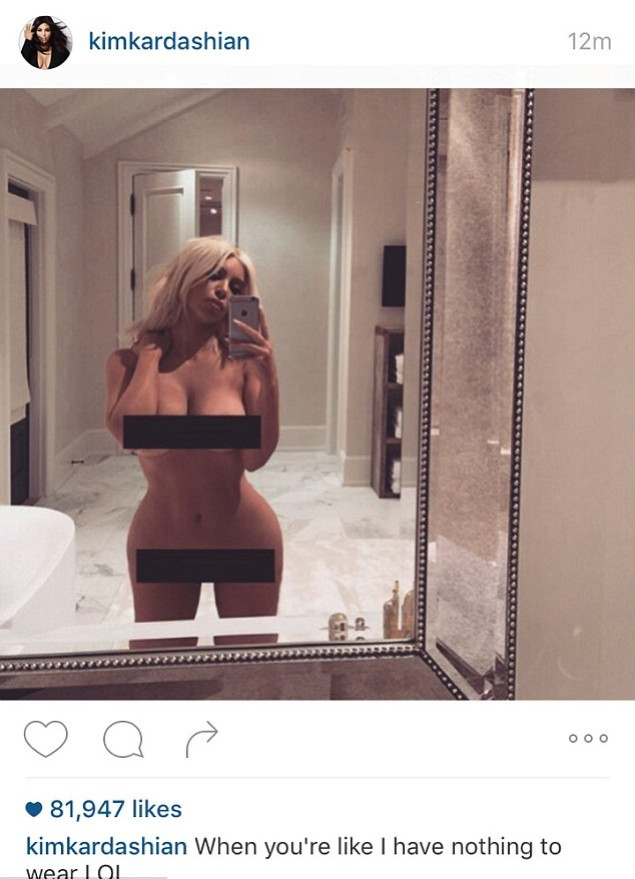 Following the furor around the naked image Kim penned an essay for her subscription-based website kimkardashianwest.com, defending her decision to share the controversial naked photo. "It always seems to come back around to my sex tape," she wrote. "Yes, a sex tape that was made 13 years ago. 13 YEARS AGO. Literally that lonnng ago. And people still want to talk about it?!?!"
On Wednesday, younger sister Kylie Jenner showed her support for Kim as she shared her own Instagram snap emulating Kim, as she posed for a selfie in her bathroom, wearing in a black two-piece bikini. Writing on Twitter she said simply: "Kim is a legend".
Kim Kardashian West has not responded to Bette Midler's invitation to use her selfies for a good cause.