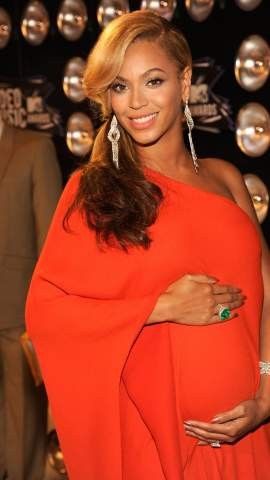 Beyoncé has taken to the Web to once again slam the fake baby rumours surrounding her pregnancy.
The singer expresses her excitement and joy over her impending arrival in a new clip posted on YouTube Tuesday night.
The 30-year-old "Crazy In Love" singer, who is pregnant with her first child with rapper husband Jay Z, mocked reports that she is faking her pregnancy by proudly showing off her growing belly in new behind-the-scenes footage taken on the set of her "Countdown" video on Sept. 23.
In the 30-second clip, the six-month pregnant star can be seen laughing and putting on voices whilst holding up the day's New York Daily News, which has a photo of her on the cover along with the headline "Oh, baby!"
Wearing a tight-fitting black roll neck sweater and her hair in a Sixties Mod-style, she explain that she is shooting her new video for her single "Countdown."
Beyoncé, who is set to give birth in February next year, tells the camera, "Right now I'm actually shooting the video ... And I'm six months pregnant pretending that my stomach is flat in bodysuits!"
'But Thank god you can't tell from the front, but when I turn to the side, oh baby, oh baby.' Turning to the side she adds "But we're not turning to the side."
Her bulging bump had been at the centre of a media backlash after footage of her stomach seemingly deflate during an interview surfaced online. Rumours have now been rife that she is in fact wearing a prosthetic while a surrogate carries the baby.
Have a look at the video here: