American singer Beyoncé Knowles has taken to Twitter to share a photograph of the art she now carries on her fingernails.
Alongside nails painted blue and sporting rhinestones are images of herself and her husband Jay-Z. Beyoncé's face is on the wedding finger of the left hand, while the rapper's is on the same finger of the right hand. Both miniature portraits are framed in gold beads. The letters J, Z, B and N - made with silver beads - can be seen on the painted nails. The other two nails, painted in gold, are decorated with a variety of gems.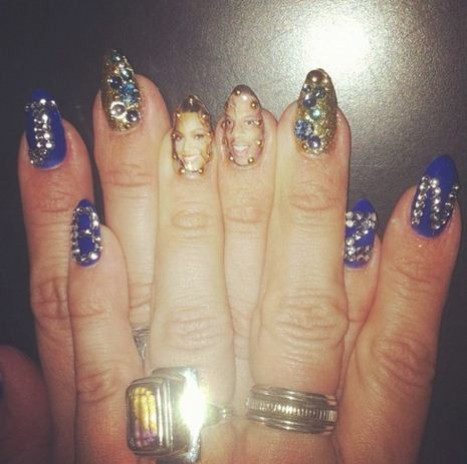 The nail art was created by design artist Naomi Yasuda, who later tweeted: "OMG! Beyonce blogged my nail on her site!!!"
Meanwhile, the Crazy In Love singer is set to offer the song I Was Here, from the album 4, to support World Humanitarian Day. The Daily Mail reports the singer will film a video, at the United Nations General Assembly Hall in New York, in front of a live audience, which will be then released globally on 19 August.
"We all see the headlines and think what can I do to help? World Humanitarian Day is an opportunity for all of us to work together to make a difference. This is our time to leave our mark on the world and show that we were here and we care," the singer was quoted as saying.
The 30-year-old star is also reportedly in talks to direct a documentary on her life and career.