Bill Cosby's star will not be removed from the Hollywood Walk of Fame, it has been reported.
Activists have been campaigning for the comedian to be stripped of the honour after documents revealed this week that Cosby had testified in 2005 to obtaining Quaaludes with the intention of giving them to women he wanted to sleep with.
In a letter addressed to the Chamber of Commerce, Earl Ofari Hutchinson of the Los Angeles Urban Policy Roundtable and Najee Ali of Project Islamic Hope asked for the removal of his star 'in light of the now public admission'.
They wrote: "Drugging and rape are serious crimes and having a star on the walk honouring Cosby after his admissions of these acts is a gross slap at the industry and the public."
According to the Daily Mail, The Hollywood Chamber of Commerce has however refused to remove the star despite Cosby's documented admission of wrong doing. Leron Gubler, Hollywood Chamber of Commerce president and chief executive, told NBC Los Angeles: "Once a star has been added to the walk, it is considered a part of the historic fabric of the Hollywood Walk of Fame. Because of this, we have never removed a star from the walk."
Cosby was given the star which is positioned near the intersection of Hollywood Boulevard and North Highland Avenue in November 1977 in recognition of his work in TV
In December last year, the star was defaced with the word 'rapist' scrawled on it three times.
At the time, the Chamber reacted saying: "When people are unhappy with one of our honourees, we would hope that they would project their anger in more positive ways than to vandalise a California state landmark."
Public outrage against Cosby escalated this week after the details of a 2005 lawsuit involving allegations of abuse against Andrea Constand, a basketball coach at Temple University in Philadelphia, was made public.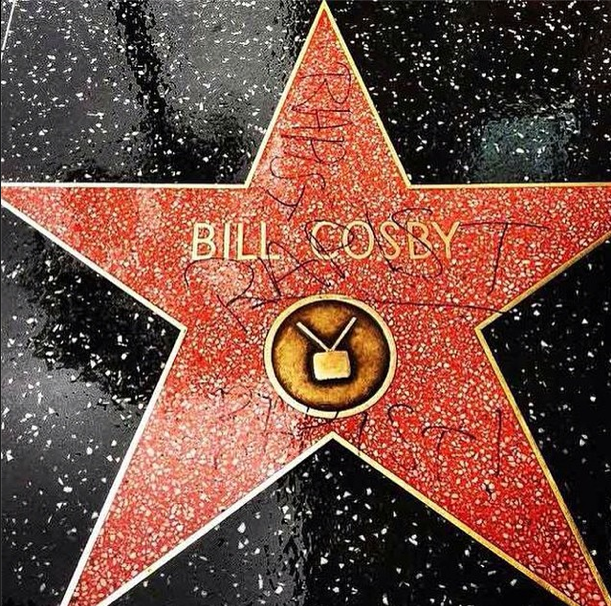 That case was settled out of court for an undisclosed sum, and the documents, which include testimony under oath from Cosby were kept secret for a decade.
In one of the documents, Cosby replied to whether he gave sedatives to one woman before having sex with her saying: "Yes." He also admitted giving quaaludes to others.
In light of the revelations, the clamour to have the disgraced comedian stripped of all honours is mounting.
The TV personality was awarded the nation's highest civilian honour by President George Bush in 2002, in recognition of his role in promoting a revolutionary portrayal of black people on television and his interest and dedication to education.
In light of the recent admission, the campaign group Promoting Awareness Victim Empowerment has now petitioned President Obama to revoke Cosby's Presidential Medal of Freedom.
The group, which is supporting many of the women who have accused Cosby of drugging and sexually assaulting them, has collected around 2,000 signatures in less than a day, backing their campaign.
The group's executive director said: "Bill Cosby's name does not belong among this distinguished list."
The Central State University in Wilberforce, in southwest Ohio, who received donations of $2 million from the entertainer is also said to be considering changing the title of a building named in honour of Cosby.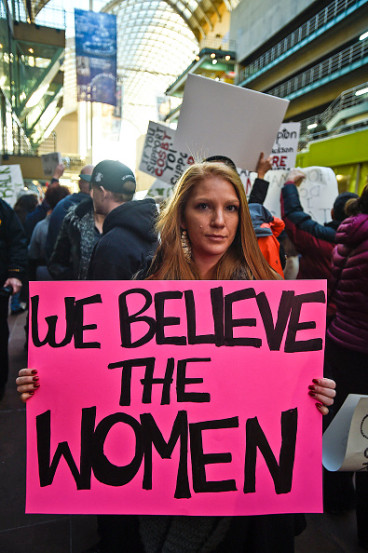 A statue of the comedian who portrayed family man Dr. Heathcliff Huxtable in the award-winning TV sitcom The Cosby show, has already been removed from Disney's Hollywood Studios theme park in Florida.
The Los Angeles police department today revealed it has opened an investigation into the allegations of sexual abuse by Cosby, including those for which the statute of limitations has expired.
ABC News reported today the Los Angeles police department was investigating Cosby on a criminal basis.
Former supermodel Janice Dickinson was among the many women who accused Cosby of rape and sexual assault in 1982. She has sued the star for defamation when the comedian called her claims 'fabricated lies'.
"I was drugged and raped by Bill Cosby," Dickinson told ET. "And the fact that he and his spokespeople have called me a liar - referring to remarks that I've made - it's just not correct."
Cosby has denied the accusations against him and has never been criminally charged.