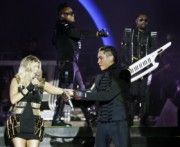 Black Eyes Peas are set to perform their last show together this Wednesday after deciding to call it quits.
The pop group are due to play a farewell gig in Miami on 23 November and will split after the show wraps.
The news comes just weeks after the group sensationally bowed out of performing at Michael Jackson's tribute concert amid rumours of an imminent split.
The farewell gig will feature performance from musicals from across the industry including Cee-Lo Green, Jason Derulo, Sean Kingston and T-Pain, plus host Queen Latifah.
The group's record label today confirmed that an indefinite hiatus was on the cards and that the group would be going their separate ways following the completion of their current tour.
An Interscope spokesperson said: "The band will be taking a break in the near future and during that period they will be exploring individual projects.
"Will.i.am has a solo record coming out next year called #WILLPOWER, the lead single will be 'T.H.E (The Hardest Ever)' ft. Mick Jagger & Jennifer Lopez."
The group, which was formed in California in 1995, features rappers Will.i.Am, Fergie, Taboo and Apl.De.Ap and singer Fergie and has sold an estimated 56 million records worldwide.
Let's have at the Black Eyed Peas' career in pictures....