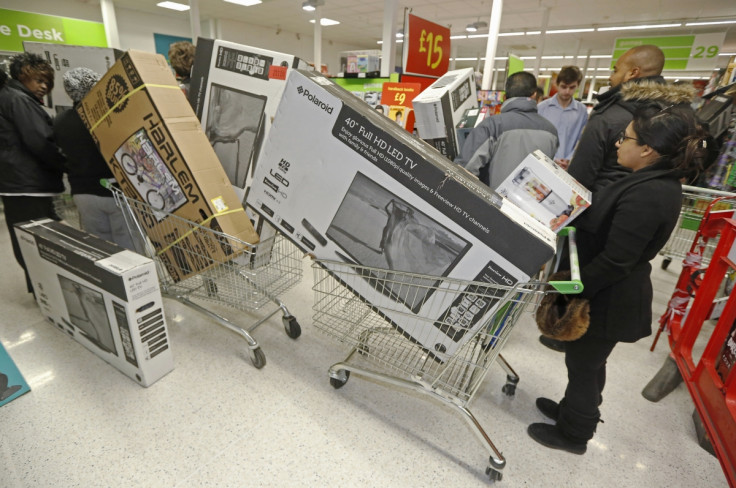 Scroll down for an updated list of the best Black Friday TV deals.
Black Friday is almost upon us and already deals on televisions and other electronics are emerging. Some of the UK's biggest retailers, including Tesco, Currys and John Lewis, as well as online retailers like Amazon and eBay, will be offering bargain prices in an effort to make the most of the biggest shopping day of the year.
In 2015 it has been forecast that sales on Black Friday will exceed £1bn for the first time. The Nottingham-based Centre for Retail Research estimates sales for this year's Black Friday, which falls on 27 November, to touch £1.39bn, while research firm Experian and e-retail industry association IMRG expect online sales to climb to £1.07bn.
But it's not all great deals for consumers and high profits for retailers on Black Friday. A report last year found that cheap deals on consumer electronics like televisions on Black Friday was helping to fuel an "e-waste explosion", causing environmental and health problems due to a lack of recycling.
Low-cost televisions result in people throwing out their old TVs, regardless of whether they're still in good working order. This Black Friday obsolescence has become a problem, the report's authors claimed.
"In contrast to other waste streams such as industrial effluents and air pollution, the rapidly growing electronic waste (e-waste) stream is largely uncontrolled and lightly regulated, relying on a patchwork of corporate 'take-back 'initiatives, state and local recycling programmes, and a handful of (mainly European) e-waste policy directives," US think tank Demos said in the report.
"In managing both the volume and complexity of our mounting e-waste, we are way behind the curve. But it is well within our means – our ingenuity and resources – to bring this problem under control. The more we delay, however, the higher the costs will be, making change less affordable and less likely in the future."
Best Black Friday TV deals
This list will be updated with the best Black Friday TV deals as more are announced.