If the social buzz around Nokia's rebooted 3310 didn't make it clear enough, Mobile World Congress 2017 has been all about big comebacks and rampant nostalgia for mobile tech's yesteryear.
Yet while HMD Global's slightly gimmicky relaunch of the Nokia name relied mostly on a device that is unlikely to wow the smartphone crowd, TCL's full-blooded BlackBerry revival with the stunning KeyOne is nothing less than the real deal.
IBTimes UK went hands-on with the QWERTY keyboard-toting Android device, formerly known as the BlackBerry Mercury, and were mightily impressed with what we saw. Below are our initial impressions ahead of a full review at a later date.
BlackBerry KeyOne: Design
Even from a brief glance, it is fairly evident that the KeyOne is dressed to impress. From its smooth anodised aluminium frame to the soft rubbery leather backing to the curved 2.5D-effect display curves, the KeyOne is a handsome handset from any angle.
Like the Priv that went before it, it is also as satisfying to wrap your palms around as it is to behold, feeling hefty and premium but light at the same time (somehow it weighs just 180g). It's both long and narrow, leaving your fingers free to use the keyboard or touchscreen with ease. There's also a customisable tab on the edge display which takes more than a few cues from Samsung's "Edge" devices.
The 4.5in Full HD LCD screen's 3:2 aspect ratio won't please those looking to stream widescreen videos on YouTube in crystal clear quality, but for browsing the web, drafting emails and using BlackBerry's unique app suite (including BlackBerry Messenger), it seems to do the job.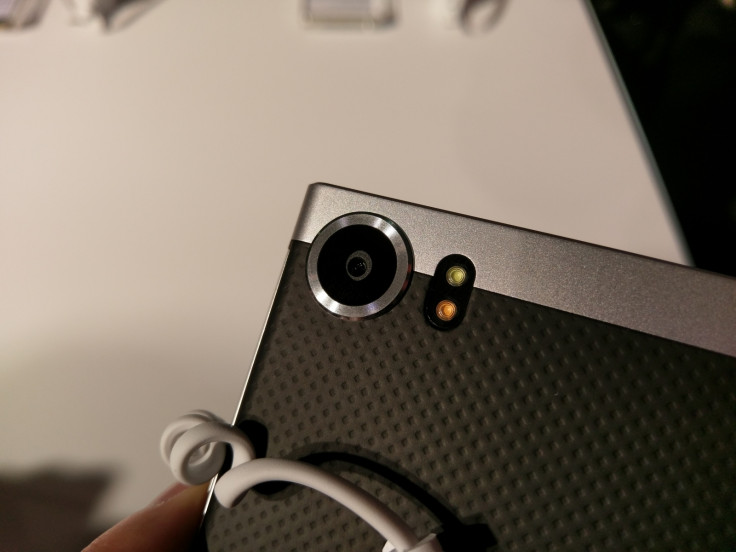 On the rear lies a 12-megapixel Sony sensor borrowed from the Google Pixel, but we understand that the imaging software on the unit we tried isn't fully finalised. For what it's worth, our quick snaps were sharp, clear and colourful with natural hues. It also has an 8-megapixel camera on the front for selfies, which feels a little at odds with its business-grade design, but it's there regardless.
BlackBerry KeyOne: QWERTY Keyboard
With Android Nougat installed out of the box the KeyOne performs as you would expect for a touchscreen smartphone, if only on a smaller sized display. But let's cut to the chase. The real differentiator here is the in-built QWERTY keyboard. Whereas the Priv hid its keyboard in a sliding form factor, here it sits in plain sight underneath the display panel.
While there was a slight readjustment period at first, typing out a message draft on the KeyOne with two-handed button presses triggered muscle memory I forgot I had. It's a little cramped compared to those found on the beloved Bold range or the BlackBerry Classic, but aside from a space bar that juts out bit too far (likely due to the built-in fingerprint sensor), the keyboard is an iconic BlackBerry staple done right, with the KeyOne avoiding the trap of feeling like a standard Android smartphone with a keyboard stuck on it.
It also has a few tricks up its sleeve, thanks to its capacitive sensors, which can be used to scroll around the touchscreen, instant word suggestions, and app shortcuts which let you map letters to specific apps. For example, holding the "W" key could open WhatsApp with ease.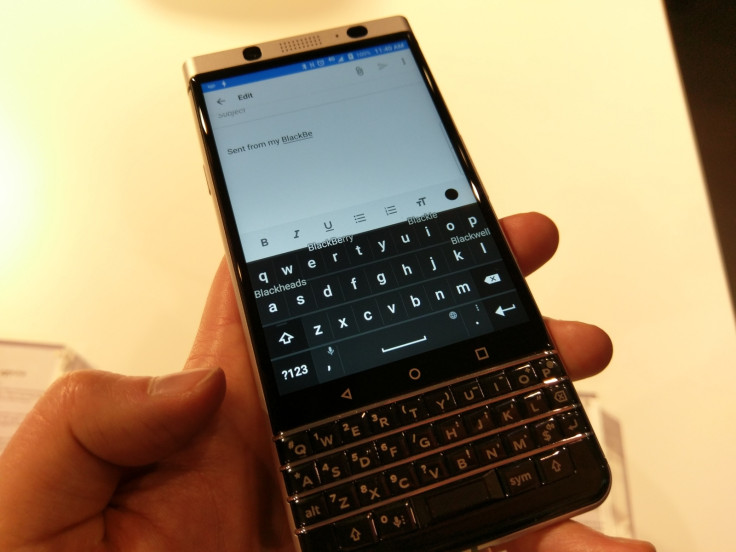 BlackBerry KeyOne: Anything else?
Of course it wouldn't be a BlackBerry phone without a meaty security suite. The KeyOne brings the DTEK software over from the DTEK family and runs the latest version of Android Nougat, complete with the latest security updates. Both TCL and Google have promised that future updates will arrive in a timely fashion too.
As for the OS itself, BlackBerry's skin does little to interfere with the stock Android experience. This leaves a largely bloat-free UI which fits nicely with the all-in-one messaging system within the returning BlackBerry Hub.
As for performance, that will have to wait for a full review as while the test device we tried at MWC 2017 performed OK, we are keen to put the Qualcomm Snapdragon 625, 3GB of RAM and 3505mAh battery under pressure in extended tests when it's available in April.
As for price, it's been given a £499 ($622) price tag, which rings in slightly higher than expected for a mid-range Android handset. However, the finish of the KeyOne and that nostalgic label might be enough to prise wallets open.
While we await more time with BlackBerry's latest, the best thing we can say about the KeyOne right now is it's a BlackBerry phone in 2017 that we want to see more of.
Feature-rich, reasonably priced, absolutely beautiful to look at and delightful to hold, the BlackBerry KeyOne leaves a very strong first impression, but will it be enough to claw back the business folk who left the brand behind? For the first time in a long time, it could have a fighting chance.