An update on the condition of Bobbi Kristina Brown has revealed that doctors were unable to bring her out of a medically-induced coma.
The 21-year-old, is on life support at Emory University Hospital in Atlanta, Georgia, after she was found face down and unresponsive in a bath tub by her partner Nick Gordon, in her Roswell home on January 31.
Bobbi Kristina was given a tracheotomy last week and taken off a ventilator, in an effort to ward against infection. Doctors attempted to revive her from het comatose state, however it was reported by CNN that she began having seizures as she was taken off her medications. It was then decided to keep her in the coma.
The latest reports come as a feud continues between Nick Gordon and Bobbi Kristina's father, Bobby Brown.
Gordon, who was invited into the family home as a child by singer Whitney Houston was raised as a brother to Bobbi Kristina. However after her mother's death, they revealed they were in a romantic relationship and claimed they were married.
The family recently denied that a wedding ever took place and the acrimony between Gordon and Brown's family became evident amidst claims that he was prevented from visiting his girlfriend in hospital.
On Monday (23 February), Gordon launched a Twitter rant against Brown alleging that he had barely had any contact with his 21-year-old daughter for years before she was taken to hospital and accused him of being interested in Bobbi Kristina's inheritance.
In a series of angry tweets Gordon, told Brown to 'grow up' and warned him that his daughter will hate him when she wakes up. He insisted that he has taken care of his girlfriend '24/7' since her mother died in 2012 adding that her father was absent.
On Monday, he tweeted: "Okay, so I'll probably get in trouble for this." He posted a picture of the new Bobbi Kristina tattoo on his right arm with the caption: "Man to man I love your daughter. I don't know why you won't let me see her. Grow up. Your daughter is going to hate you when she wakes up.'
"Crazy how all the Browns came to the hospital when this went down. I've been with her 24/7 watching over her and mom. Bobby left when it got heavy. Bobby seen his daughter 4 times in the last 5 yrs. Now him and his family want Whitneys $$$ which belongs to Krissi or Cissy."'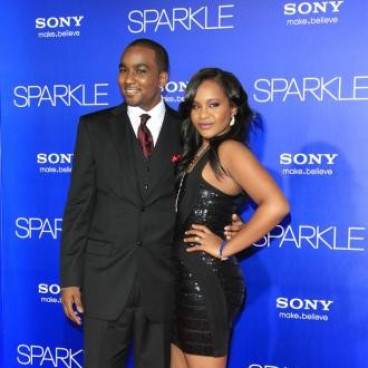 Reacting to critics on Twitter doubting his claims he added: "'Listen at the end of all this I took care of Whitney Houston and Kriss which was very hard on someone my age. They cried on my shoulders!!!"
Recalling the night Bobbi Kristina was found unconscious in the bath he said: "My only regret is not getting to [Bobbi] faster to give CPR."
"'I can't wait till she wakes up and dismiss all of the negative thoughts. There is a reason why her mom made me promise to look after her," he added.
"'Let me in the hospital to see my girl and let her hear my voice SHE WILL WAKE UP!!!'" he tweeted on Saturday.
The tirade came hours after lawyers for the Brown family told Gordon he will not be allowed at her bedside until he reveals exactly what happened the evening before Bobbi Kristina was found face down in a bathtub.
The tweets were later deleted.