A close friend of Bobbi Kristina Brown has alleged that the daughter of Whitney Houston was so terrified of boyfriend Nick Gordon, that she would hide in her mother's closet to escape him.
In an interview with E!, Alex Reid recounted a conversation with the 22-year-old after an alleged altercation with Gordon.
"She was sobbing. Nick had hit her and she was scared," explained Reid. "She was very upset. She didn't know what to do. It was as if she didn't have anyone else to turn to. It was heartbreaking."
Reid said she forged a close friendship with Bobbi Kristina after the two met during Grammys week and the pair spoke daily on the phone. She revealed that Bobbi Kristina confided in her about suffering domestic violence and being trapped in an abusive relationship.
"Krissi was physically abused by Nick on a number of occasions and she told me about some of them. I never witnessed anything...she would FaceTime me every time she was distraught, when something has just happened or show me a bruise."
She said that Bobbi Kristina's relationship with her family fractured after she became romantically involved with Gordon.
"Krissi felt isolated from the whole family and that left her completely dependent on Nick for everything," explains Alex. "It was just her and Nick and that was it."
"I don't know when he started hitting her," says Alex. "But I know of at least four occasions when he struck her. She also told me about how he had tried to choke her once. She was definitely scared. She had some friends, but not many.
"One time I remember she called me for three hours. She was hyperventilating. I could barely understand what she was saying because she was so distraught. When she could finally get the words out she told me he had been physically abusive. He had hit her in the face and thrown her against a wall."
Alex revealed that she tried to persuade Bobbi Kristina to leave Gordon on numerous occasions, but she refused to listen and would make excuses for his behaviour believing this was love.
"She said she didn't blame Nick," Alex recalls. "She blamed his temper. It was just that he couldn't control it. She didn't think it was his fault. It was a desperate love. She felt like she couldn't do anything without him. There were things I knew that she couldn't tell anyone else. She didn't feel comfortable confiding in her family because she loved him and she didn't want them turning against him, more than they already had. She loved him and was loyal to him despite the abuse."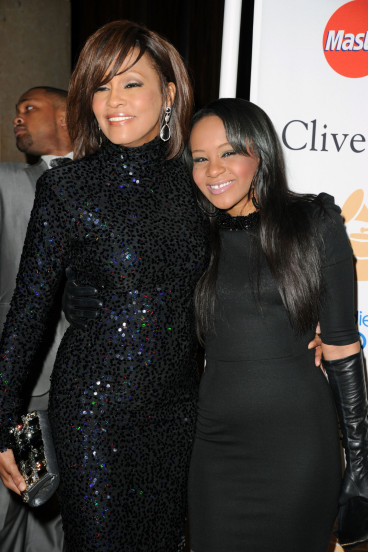 Describing the final weeks before she was taken into a medical facility, Alex revealed she was increasingly worried about her. "I felt she was in danger. I didn't know what to do. She had sworn me to secrecy; she didn't want anyone to know the truth. All I wanted to do was to help her and yet I couldn't betray her. It didn't matter what I said to her, she wouldn't listen. And I couldn't speak publicly and upset her. I didn't know how to get through to her," said Alex.
"We didn't speak as much that week as Nick wasn't happy at her for confiding in me. I was finding it hard to get a hold of her. On the Thursday, before the 911 call, I texted with her and she seemed fine. But on the Friday when I texted again, I didn't hear back. Then at around 3 p.m., I tried to call her and she didn't return my call, which never happened. She would always call me back. I tried her again at around 9 p.m. Atlanta time. And still no answer. When I heard the news on the Saturday I just screamed, I couldn't believe it. "
Bobbi Kristina has been in a medically induced coma for five months after she was found in the bath of her Georgia home, face down and unresponsive in the bath tub. Police have launched a criminal investigation in to the matter after she was found to have unexplained bruises on her body, It was later reported that one of her front teeth was missing.
Members of her family have spoken of their suspicions that Gordon had a part to play in her current condition. An explosive lawsuit by Bobbi Kristina Brown's conservator accuses her boyfriend of violent abuse before she was found unresponsive, and of stealing her money afterwards.
The lawsuit, filed in Fulton County in Georgia by Brown's court-appointed conservator Bedelia Hargrove, accuses Nick Gordon of assault, battery, intentional infliction of emotional distress, and manipulating her funds.
And. in a strongly worded statement Bobby Brown. indicated that he does not believe his daughter has been left in a coma as a result of an accident.
The singer demanded justice for Bobbi Kristina stating: "Whoever had a hand in causing my daughter's injuries needs to be brought to justice."
Nick Gordon has denied any wrong doing and his family have spoken out in his defence claiming he has been used as a scapegoat.
Bobbi Kristina's circumstance tragically echoes the death of her mother Whitney Houston who was found dead in the bath on the eve of the Grammy's.
Reid claims that the loss of her mother at such a young age deeply impacted Bobbi Kristina.
"Krissi was just a teenager when she lost her mom," says Alex. "She did not get proper therapy, and instead was just living alone with her older boyfriend struggling to heal. She needed support and unconditional love, so she desperately clung to Nick in the hopes of finding that in him. Instead, she got physically abused, emotionally abused, disrespected and taken advantage of."
Bobbi Kristina was recently moved to a hospice where she will be taken off life support and allowed to die naturally. As her family gather at her bedside to prepare to say goodbye, Reid said that she felt compelled to share her insight into her friend's tragic circumstances.
"I love her. I would never have betrayed her and spoken out before now, " explained Reid. "But as she lies there, I feel there is no one else to speak on her behalf. I feel like I have to be a voice for her now.
"There are things that I know that no one else does. And I hope that by speaking out I can help the investigation in some way."
Further compounding the sense of tragedy, Reid revealed that Bobbi Kristina was picking up the pieces of her life and had expressed a desire to make a name for herself as a singer, just like her mother.
"She wanted to continue the legacy of her mom. She had spent the past year writing and singing new songs and would often make little videos of herself happily singing as she sat around her swimming pool in the afternoon. She was really keen to be known not just as Whitney Houston's daughter but also as herself. She wanted to make her mother proud."