Body On Me video: Rita Ora and Chris Brown play passionate lovers in sexy visuals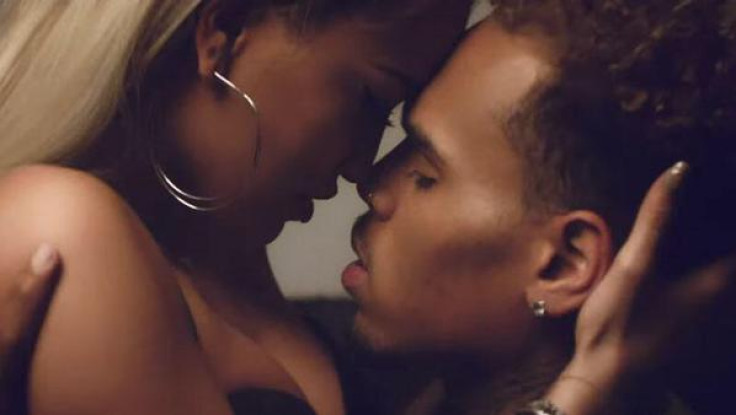 It is easy to see why his ex-girlfriend Rihanna was allegedly jealous as the chemistry is palpable between Rita Ora and Chris Brown in the music video for their new single, Body On Me. While serenading each other, the singers embrace passionately and writhe around half naked.
In the video, the pop stars play neighbours living in the same apartment block who are clearly crushing on each other. After giving in to their affections, Ora, 24, and Brown, 26, engage in a steamy love affair, mainly consisting of them undressing one another and sharing a series of kisses.
At one point, the British songstress goes topless using only a large Union Jack flag to cover her modesty while her Grammy-winning companion spends most of the video showing off his toned physique. The raunchy visuals end with the pair heading to the rooftop of the building where they perform a choreographed dance routine.
Watch Rita Ora and Chris Brown's Body On Me music video:
The premiere comes after a source claimed Brown's former girlfriend Rihanna, 27, was furious when she heard how sexy the video would be. An insider told The Sun: "There's no lost love between them, but this is another example of what Rihanna perceives to be a lack of respect by Rita. Chris and Rihanna have a long history and she hit the roof when she heard about Body On Me – especially the video."
The racy nature of the video has raised eyebrows with many on social media speculating if the singers are enjoying a romantic nature in real life.
The I Will Never Let You Down songstress was heavily criticised for collaborating with Brown, who was convicted of assaulting Rihanna in 2009. However, Ora has previously spoken highly of the Loyal singer, telling The Sun: "I see how he treats his people and he's a good person with a good heart and a lovely family. It's really nice that we finally got together because, regardless of what's happened, the song is just amazing."
© Copyright IBTimes 2023. All rights reserved.