Bookies have slashed the odds on the announcement of another royal baby following the successful eight-day tour of Canada which saw Prince George and Princess Charlotte win over the public with their adorable outings.
Ladbrokes have slashed the odds that Kate Middleton and Prince William will have a third child to just 4/6. Odds of a pregnancy announcement before the end of 2016 stand at 4/1, while the odds of a 2018 pregnancy are 3/1 according to Mail Online.
It was the first time that the Duke and Duchess of Cambridge had embarked on an official royal tour with both their children and the images of the happy family of four has prompted royal fans to speculate that Kate might already be broody.
Jessica Bridge of Ladbrokes told Mail Online: "The sight of Kate and Wills with George and Charlotte has sent royal baby watchers into overdrive.
"A 2016 announcement seems unlikely but if the money's to be believed 2017 looks like a certainty.
"Fans of the Duke and Duchess are hoping the couple make an addition to their gorgeous brood sooner rather than later," she added.
Speaking about sharing the experience of the Canada tour with his whole family, the Duke said: "We feel very lucky to have been able to introduce George and Charlotte to Canada.
"This country will play a big part in the lives of our children and we have created such happy memories for our family during this visit."
Earlier, the couple had faced criticism for forgoing their royal duties to focus on their children. Kate skipped the annual presentation of shamrocks to the Irish Guards on St Patrick's Day in order to spend time with her children ahead of the royal tour of India and Bhutan in April.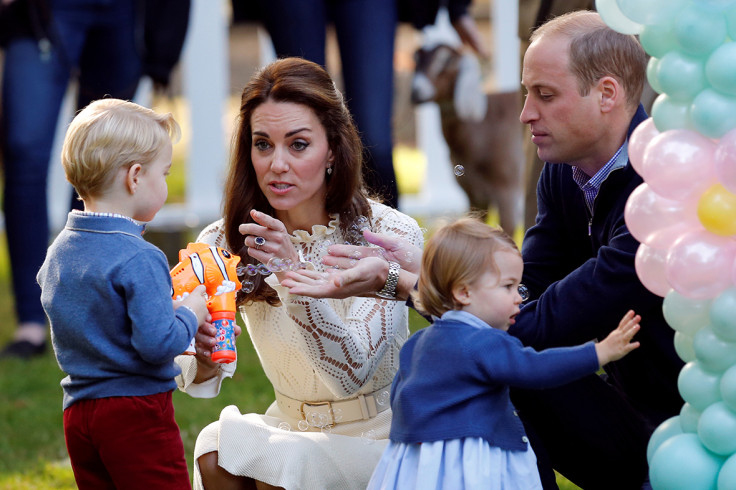 William was dubbed "workshy" for taking on a part-time role with the Air Ambulance, however the Prince defended his decision to spend more time with his family.
"I am concentrating very much on my role as a father," he explained. "I am a new father and I take my duty and my responsibility to my family very seriously. I want to bring my children up as good people, with the idea of service and duty to others very important, but if I can't give my time to my children as well then I worry about their future."
Despite their popularity, royal watchers say it will probably be the last official tour for the children for some time so that they can experience a normal childhood away from the glare of the media.