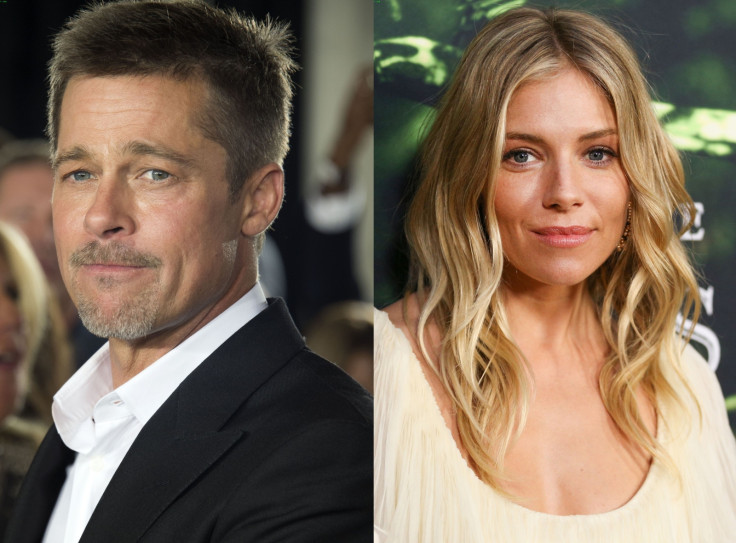 It seems Brad Pitt has moved on from his bitter separation from wife Angelina Jolie. And according to the latest report, he is "secretly dating" Sienna Miller and enjoying a "carefree casual summer romance". The actor, however, is reportedly determined to keep the relationship under the wraps for a while.
An unverified report by the Sun claims that the Allied actor and the British actress want to keep their budding romance a low profile. "It's early days, but they are very into each other and enjoying a carefree, casual summer romance. They are both absolutely determined to keep everything under wraps."
The 53-year-old Hollywood actor's bitter separation battle with Angelina Jolie in September 2016 garnered world media attention. The publication claims, the actor does not want to rush things with his rumoured girlfriend. "Their goal is to explore things without any massive publicity. It could all fizzle out, so they're waiting to see. Brad, in particular, feels burned about the huge publicity around his last two relationships," the source added.
The alleged couple first spotted at the Glastonbury music festival over the last weekend and Sun claims that they were holding hands and cuddling up to each other at the late night party on Worthy Farm. "Brad and Sienna couldn't keep their hands off each other, touching and stroking each other at every opportunity. They seemed really intimate," the report claimed.
The reports are, however, are unverified and Miller has previously rubbished the romance rumours as "predictable and silly." "I'm not going to even dignify it with a response," she had said responding to the gossip at a Cinema Society screening of her new movie.
The Ocean's Thirteen actor has previously been linked to French actress Marion Cotillard as their film Allied's premiere coincided with the Brangelina divorce saga. After which the actress has to release a press statement to dismiss the romance claims.