Brazilian radio DJ Gleydson Carvalho shot dead live on air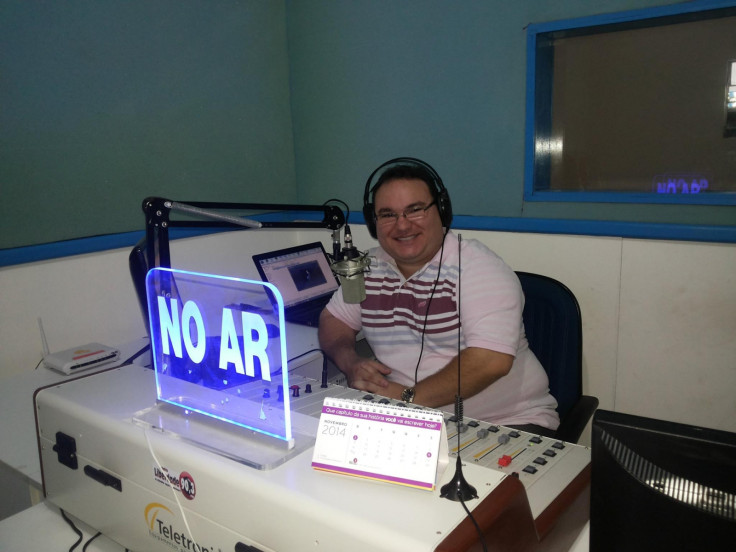 A Brazilian radio presenter died after being shot five times as he was hosting his lunchtime show on Thursday (6 August).
A stern critic against local government corruption, Gleydson Carvalho was murdered when two gunmen forced their way into the studio. The perpetrators subdued a receptionist and ordered a sound engineer to take cover under a table before opening fire on Carvalho, who was shot three times in the head and twice in the chest.
"They came to the station's facility and said that they had to make an announcement," Police Chief Herbert Silva said. "Once they opened the door, they announced it was an assault and asked who was in the audio room. Immediately after, the subject entered [the radio booth] and shot Gleydson three times on the head and twice on the chest."
The assailants then fled from Radio Liberdade's offices in the city of Camocim, north eastern Brazil.
The attack took place while music was playing on air and it is understood that Carvalho would frequently receive death threats during live broadcasting.
Police announced yesterday (7 August) that they had arrested two suspects in connection with the killing. Francisco Carneiro Portela, 18, and his girlfriend Gisele Sousa do Nascimiento, 23, were arrested at a house 50 miles from Camocim.
Police chief Herbert Ponte said: "The two killers had fled by the time we arrived but we don't have any doubt that the couple we've taken into custody are linked to the crime and the property was used to plan the murder."
The two men at large have been named as 22-year-old Tiago Lemos da Silva and Jefferson, who also goes by the nickname "Dudu".
A friend of the victim, Autran Santos said: "He [Carvalho] spoke to me constantly about the threats but said he wasn't afraid.
"The most serious threats he received were to do with politics. He said he had enemies because of the accusations he made."
According to Human Rights Watch, Mr Carvalho is the fourth Brazilian journalist to have been killed this year and says that the investigation should specifically "take into account the likelihood that Carvalho was killed in retaliation for his work as a journalist".
"Attacks against journalists for their work threaten freedom of expression and the very fabric of democracy," said Maria Laura Canineu, Brazil director at Human Rights Watch. "It is crucial for the authorities to ensure full accountability for the killing of Carvalho and other journalists to guarantee that reporters in Brazil can work without fearing for their lives."
In May, political blogger Evany Jose Metzger who was investigating a child prostitution ring was found hacked up in the state of Minas Gerais.
© Copyright IBTimes 2023. All rights reserved.