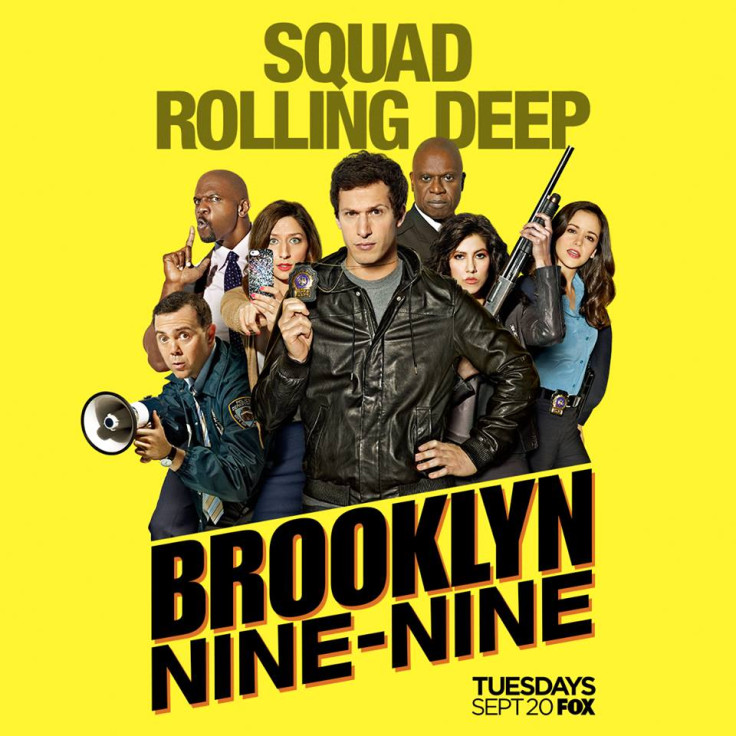 Brooklyn Nine-Nine, the cop-comedy is all set to premiere its season 4 on Fox. As the new season airs, fans of the series will find the Nine-Nine squad duo Jake and Holt in the witness protection programme in Florida living under the assumed names of Chuck and Larry. Connecting them with the precinct is a new character, played by a guest star this season.
Click here to watch Brooklyn Nine-Nine season 4 episode 1 titled Coral Palms Pt1 live online on the official website of FOX. The premiere episode will air on the network on Tuesday (20 September) at 8pm EST.
Maya Rudolph of Maya & Marty fame will join the comedy series this season to play the role of US Marshall Karen Haas, who is the only human contact for the detective duo in Florida.
Clearly living in incognito mode hasn't worked out well for the NYPD detectives as they are about to risk their anonymity and lives because of a viral video featuring the two.
The official synopsis for episode 1 of Brooklyn Nine-Nine teases that while "Jimmy 'The Butcher' Figgis is still at large; Jake and Holt's anonymity is at risk when a video of them goes viral". Divided into two parts, the premiere episode will mostly deal with the cat and mouse game between the mafia boss and the undercover detectives Jake and Holt.
With Figgis at their back, there is not much the two can do other than depend on their liaison officer Haas for some damage control.
Meanwhile, back at the precinct, a new captain will be taking over the squad in the absence of the stern detective Holt. This brings us to another new character in season 4, the new captain starring Ken Marino.
Could this replacement lead to some conflict? Fans' best bet is to wait for the season premiere. Other that Rudolph and Marino, Jim O'Heir of Parks and Recreation will also guest star in the upcoming season of the Fox's police comedy along with Rhea Perlman, and Jorma Taccone.
Brooklyn Nine-Nine season 4 will also feature a cross-over with New Girl on 11 October. Catch the season premiere of the Fox comedy this Tuesday.