Bruce Jenner was considering undergoing gender reassignment 30 years ago, it has been reported.
Entertainment Tonight claims "a source with direct knowledge", has revealed that the former Olympian had started a gender transition process in the mid-1980s, undergoing hormone therapy and electrolysis and had had plastic surgery to make his features look more feminine.
Bruce is believed to have discussed the idea of gender reassignment surgery with doctors in Denmark, but had a change of heart after meeting Kris Kardashian in 1990.
As the romance blossomed, the former star athlete is alleged to have undergone hormone therapy and breast reduction surgery.
The couple were married in April 21, 1991, and went on to have two children together - Kendall, now 19, and Kylie, 17.
They announced their separation in 2013 and their divorce was finalised in December 2014.
The revelations have emerged just hours ahead of Jenner's much anticipated ABC interview with Diane Sawyer, in which he is expected to open up about his transition to life as a woman.
While the former Olympic athlete has not responded publicly to speculation regarding his changing appearance, he reportedly shared his plans for his future life with his family.
The news is said to have elicited a mixed reaction from the members of the Kardashian-Jenner clan. His ex-wife Kris Jenner is believed to have reacted with shock at the news and is said to have had no idea of Bruce's desire to live his life as a woman.
An insider told TMZ that although he touched on his "tendency" to dress like a woman, he never acted on his urges and she was kept in the dark about his real feelings about his identity.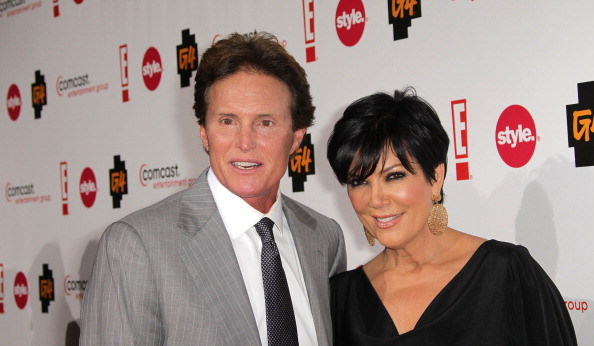 It was earlier reported that Kris is prepared to sue the former sports star if he reveals intimate details about their marriage during the television special.
"Kris snapped this weekend and is now threatening him with a defamation suit, demanding that he let her see the Diane Sawyer interview and what is filmed so far of the documentary," the source reportedly said. "Kris told Bruce that if he defames her in any way, or their brand, she is going to sue him for everything that he is worth."
However, sources close to Jenner claim that although he spent almost 50 years in denial, his former partner was fully aware that he was conflicted about his gender.
With Kim Kardashian revealing that the whole family will be tuning in along with the rest of the world to see the interview, it seems Kris Jenner will be watching with more interest than anyone.
Bruce Jenner The Interview airs on ABC tonight at 9/8C.