A box-art/pre-order card leak has fueled rumours that 2016's Infinity Ward-developed Call of Duty will be titled Call of Duty: Infinite Warfare and will launch on 4 November.
The image, first posted on Reddit, also suggests that a 'Legacy Edition' will include a remastered version of the immensely popular Call of Duty 4: Modern Warfare - also developed by Infinity Ward and originally released for Xbox 360, PS3 and PC in 2007.
Described as a 'full game download', the possible remaster drops the number from its original title and is only referred to as 'Modern Warfare Remastered'.
With no official confirmation from the game's developer or publisher, it is yet to be revealed whether the 'reservation card' for US retailer Target is genuine.
It is also uncertain whether Modern Warfare Remastered would be released as a standalone download, although considering the original game's legacy - particularly for its hugely popular online multiplayer mode - it would seem very unlikely that the franchises's publisher, Activision, would restrict the possible remaster to 'Legacy Edition' buyers only.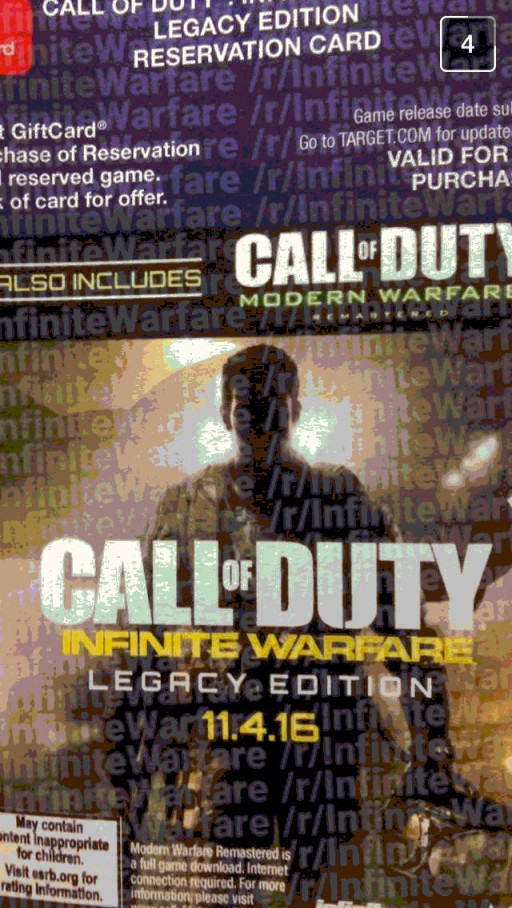 IGN reported yesterday (26 April), that the Infinite Warfare moniker had popped up as an empty option on the US PlayStation Store on PS4. Most rumours point towards a sci-fi setting for the next instalment in the first-person shooter mega franchise, while a retail document posted on Twitter by YouTube critic Jim Sterling (below) has also hinted at an imminent unveiling of the forthcoming FPS.
IBTimes UK has contacted the publisher for comment and will update when we receive a response.