Popular video game critic Jim Sterling has become the target of a civil lawsuit filed by indie developer Digital Homicide, who are asking for over $10m (£6.9m) in damages for what they allege is a history of "assault, libel, and slander."
Sterling – cited in the lawsuit under his real name James Stanton – has frequently covered output from Digital Homicide on his YouTube channel, which the developer claims the outspoken pundit has used in conjunction with Twitter to front "a combined traffic-driving effort to profit from subscription and ad revenue," at the expense of the developer's reputation.
Filed by Digital Homicide co-creator James Romine (partnered with his brother Robert), the lawsuit focuses on alleged claims of libel resulting in "damage to reputation, damage to product, loss of product, and causing severe emotional distress to The Plaintiff".
The $10,761,000 in total damages sought by Digital Homicide in the court documents consists of $2,261,000 in 'Direct Product Damage', $4,300,000 in 'Emotional, reputational and financial distress' and $5,000,000 in 'Punitive damage'. As Destructoid notes, the separate damages inexplicably reach a total of $11,561,000, an overall figure which is not noted in the official documentation.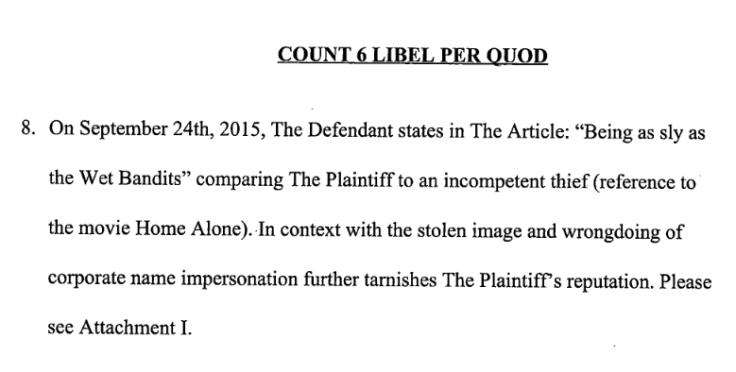 In a bizarre use of crowd-funding, Digital Homicide have set-up a GoFundMe fundraising campaign to garner the funds necessary to hire an "excellent" lawyer they hope will assist with the lawsuit. As of writing the campaign sits at $190 of the $75,000 target, from a total of six donations.
Sterling, who regularly covers developmental projects of questionable quality that arrive on the Steam Greenlight platform, has kept decidedly quiet on the issue, alluding to the legal action only briefly on Twitter:
The confrontation between Sterling and Digital Homicide began following Sterling's scathing coverage of the first-person shooter The Slaughtering Grounds. Since then several back-and-forth exchanges, including a disturbingly uncomfortable Skype interview/interrogation, between the two parties have threatened to boil over into court, but it would seem that the developer of ELT: The Extra Large Testicle and the (now seemingly unavailable) "pimping strategy game" Six Nights at Suzie's has decided to pursue legal action first.
For all the latest video game news follow us on Twitter @IBTGamesUK