Cambodian tycoon who beat up actress arrested on return to country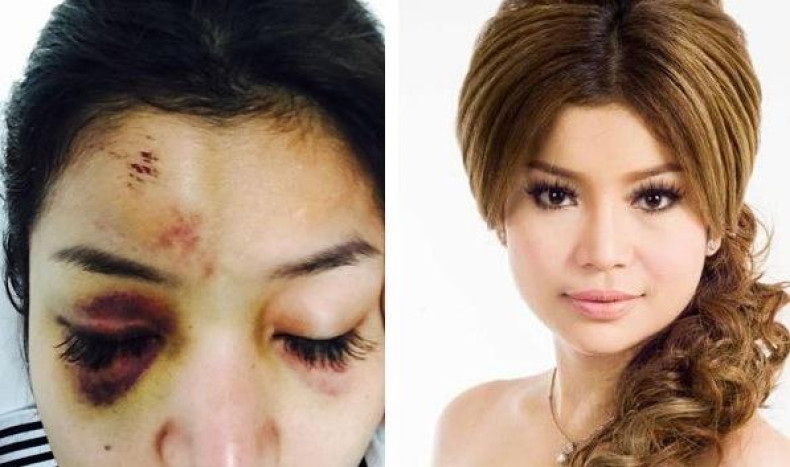 Cambodian property tycoon who brutally beat up an actress in a Japanese restaurant in Phnom Penh while his bodyguard pulled out a gun and pointed it at her head, has been arrested.
Sok Bun, 37, who had fled to Singapore after the incident captured by the restaurant's security camera went viral, was detained last Saturday (18 July) on his arrival at the Phnom Penh airport. He was taken directly to court.
Footage of the tycoon attacking actress Ek Socheata, better known as Sasa in the early hours of 2 July drew wide public criticism after the actress obtained the pictures from the restaurant and posted it on her Facebook.
She was with her Japanese friend and had tried to protect her friend from the drunken advances of Bun when he attacked her.
Bun has since doubled his compensation offer to the actress to $200,000, Sasa told AFP.
"[We] sent him to the court. He faces charges of evidence of violence and intentionally causing injury," national police spokesman Kirt Chantharith told AFP. If found guilty, he faces a prison term of up to five years.
The Phnom Penh Municipal Court has charged Bun with violence and intentionally causing injury. Investigating judge Leang Samnath told the Phnom Penh Post that the tycoon is now at the Prey Sar prison awaiting trial.
Bun had initially pleaded to Cambodian Prime Minister Hun Sen to take pity on him and to guarantee his freedom. However Hun Sen in refusing to intervene, said: "Don't think that because you have money you can escape. What you have done is intolerable."
Yin Sophy, Bun's lawyer said his client had returned to Cambodia because he wanted to resolve the case through the judicial system.
"My client has a real willingness to deal and take responsibility about this case. So he has come to solve these allegations with court directly," the newspaper said.
His bodyguard, who had pointed his pistol at the actress during the incident remains at large. The newspaper says that the bodyguard had pulled the trigger of the pistol but it did not discharge.
The authorities have not named the bodyguard but has said that he is wanted for illegal possession of a firearm and attempted murder.
Sasa's friend has since lodged a police report that prior to the incident she was raped by Bun. She has fled the country, the newspaper said.
Colonel Sok Ly, a police officer at the Ministry of Interior's Penal Police Department confirmed that the friend had filed a rape complaint against Bun.
"This case has not been sent to court yet. It is still with our police for further investigations."
Bun's lawyer said he had read media reports about the rape allegation but has yet to receive anything official from the authorities.
Bun resigns from joint ventures with Singapore's TEHO International
The property tycoon has resigned as a director of two joint ventures between his company and Singapore listed partner TEHO International Inc Ltd.
A statement on TEHO's website said that Bun "has agreed to resign from his directorship in the joint venture companies due to personal reasons with immediate effect."
The joint ventures include a $500m hotel and residential development in the Chroy Changvar peninsular known as The Bay.
Bun has also resigned as the head of the Cambodian Valuers and Estate Agents Association.