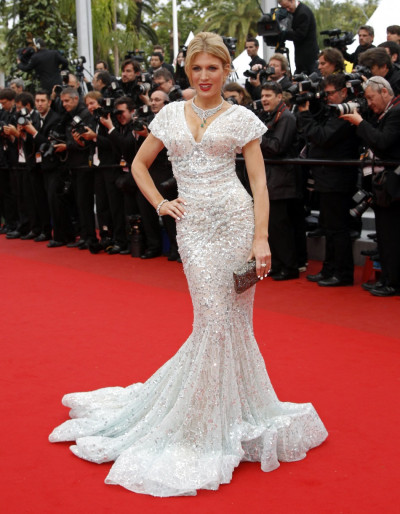 The 65th edition of the Cannes Film Festival that kickstarted on 16 May has witnessed wonderful creations exclusively crafted by famous designers.
Diane Kruger's billowy mint green custom-made Giambattista Valli gown, British singer Cheryl Cole in a white and red Stephane Rolland Couture gown, Jane Fonda's Stella McCartney black and white gown that created illusionary experiences...the Cannes red carpet has been astounding.
Day six at the festival was "try out something new" day. Delphine Chaneac surprised spectators in a white shirt and pants. It is something one would hardly think of wearing to Cannes where feminity and beauty are highlighted. Chaneac opted for a casual look with her trousers.
Singer Najwa Karam was an embodiment of prints and white floral designs while actress Hofit Golan looked pretty in a long blue. She decided to cover up a little too much after her controversial revealing dress worn at Cannes 2009. Singer Sylvie Hoarau came out with a bold experiment of combining black fur overhauls with a black gown. The fur stole the thunder from the gown, but that did not make Hoarau look any less stunning.
Actress Geraldine Danon decided to experiment with colour, opting for a highly contrasting pink and green gown. When some went for sizzling colours, a few others like actress Nastassja Kinski opted for variations in design keeping the colour sober. At one point, it was not even about the trends in dressing because novelty in hair-styling took over. An unidentified guest who came with director John Boorman made sure that her hair looked like a floral garden. Adorning pink flowers with loosely tied hair, the guest showed that the race was not just about clothes!
Not to forget the much mentioned Diane Kruger's glittery pieces and single coloured gowns which caught enough attention. Kruger's ethereal mint Giambattista Valli Grecian one-shoulder gown, a daring burgundy lace-up mini by Versace Versus, paired with strappy mesh sandals from Jimmy Choo, and a Vivienne Westwood silver and gold sequined column dress won her the title of "best dressed" already at the festival.
According to the Mirror, a few ladies highlighted their pink lips, some others opted for flashy bags while some accessorised heavily. "The red carpet at Cannes 2012 has seen its fair share of chignons, ponytails and chic updos but vintage inspired waves remain popular amongst the Hollywood glitterati.Fuchsia, peony and bubble gum are trumping the classic shade of red with celebs at Cannes opting for pink hues on the lip to match fresh and feminine looks," the Mirror reports.