Former Bond girl Monicca Bellucci came across as very French while kissing co-host Alex Lutz as they launched the 2017 Cannes Film Festival on Wednesday evening (17 May).
Much to the surprise of onlookers, the 52-year-old actress went straight for the French comedian, passionately kissing him, while he played along.
Bellucci, who was serving as the prestigious Mistress of Ceremonies for the second time, left no stone unturned in commanding attention with her sultry look and steamy display at the Palais des Festivals et des Congrès.
Giving in to the mood of the opening night, she leaned in for a passionate kiss as her 38-year-old co-host obliged by grabbing his own rear.
The Italian model / actress was even dressed for the part – in an off-shoulder, semi-sheer black Dior gown with a delicate bodice.
With her luscious side-swept locks and deep smokey eyes, Bellucci looked every bit like the mistress of the ceremony.
Adding to the 'wow' factor was a diamond drop necklace which complemented the hues of her bespoke black Dior gown.
Bellucci and Lutz entertained guests with their faux make-out session before kicking-off this year's festival with the opening night's premiere of Ismael's Ghost. Starring Marion Cotillard and Charlotte Gainsbourg the film by French director Arnaud Desplechin's is a drama about moviemaking.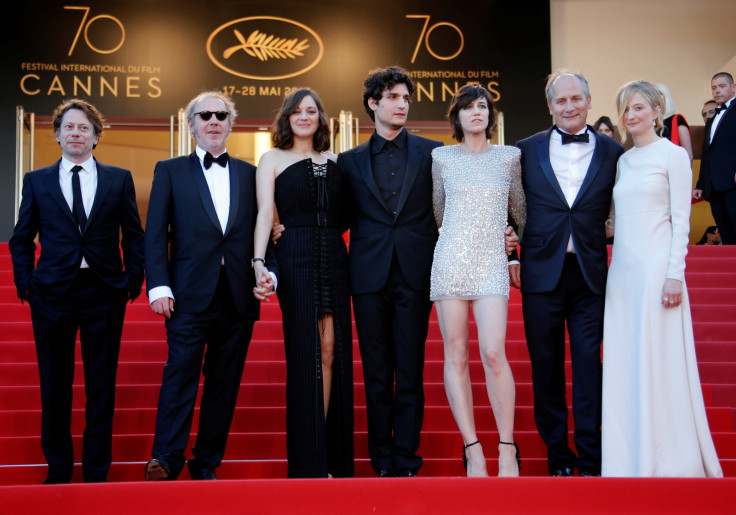 Following the playful exchange, the Matrix star was joined by Cannes jury president Pedro Almodovar and model Lily-Rose Depp (daughter of Johnny), who stunned in a cut-out white dress.
Among the notable Hollywood stars gracing the red carpet on opening night were Jessica Chastain, Julianne Moore, Eva Herzigova, and Uma Thurman. And needless to say there was no lack of drama, courtesy of Bella Hadid's wardrobe malfunction.
The 12-day festival in Nice is set to showcase some noteworthy cinematic works including Kristen Stewart's directorial debut Come Swim and her ex Robert Pattinson's Good Time.