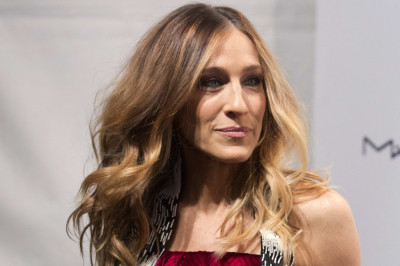 She used to write freelance articles for them, and now it appears Carrie Bradshaw could finally get the chance to edit Vogue.
Anna Wintour is considering Sarah Jessica Parker as her successor as Vogue editor-in-chief, according to celebrity gossip site Radar Online.
Parker, 48, is most famous for her portrayal of Carrie Bradshaw in Sex and the City. During season four of the show Carrie, a man-eating freelance journalist, fulfilled her dream of writing for vogue - and it seems life could soon be imitating art.
"Anna is worrying colleagues who believe she has found her true successor in Sarah!" an inside source said.
"It's a surprising idea, but one that is not entirely a joke. Anna thinks Sarah, a fashion icon on Sex and the City, truly has what it takes to step into her shoes and take on a role at Vogue one day.
"After all, she already played a writer, Carrie Bradshaw — and has the manolo blahniks!"
The publication also claims that Wintour, 64, and Parker "have regular private lunches and Sarah has been consulted on a stunning array of Vogue's big moves over the last several months.
"She has totally entered the inner circle. Sarah is playing this like she is serious and she wants it — she is doing her homework and learning the business like never before. It's the fashion equivalent of running for president or getting nominated to the Supreme Court and Sarah is treating it that way!"
However Parker, who recently launched her own footwear collection, is not apparently considering taking the editor's job.
"It would be a fun thing for her, but she already has so much on her plate it's not an option and she actually has never considered it before," an insider told MailOnline.