A 27-year-old man who fired a gun during a street fight has been jailed.
Armand Krasniqi, of Tottenham, north London, was sentenced to a total of 14 years at Wood Green Crown Court on Tuesday (19 December). He was found guilty in July of wounding with intent and possession of a firearm.
Police were called by members of the public on the night of 25 August last year after reports emerged of a gunshot being heard in the area of Langham Road, Wood Green. The scene was secured by officers but no victims or suspects were found.
A victim later attended a north London hospital with gunshot injuries that were not life-threatening.
Detectives from the the Met's Trident division - which combats gang-related crime - investigated and carried out inquiries, including reviewing CCTV in the area.
The video footage, now released to the public, shows two men fighting in the street in front of members of the public. As the fight progresses, other men arrive to help with one man handing what appears to be a firearm to Krasniqi.
He takes the firearm, holds it at waist height and fires it at the other man who falls to the ground before limping away from the scene. All the men then disperse.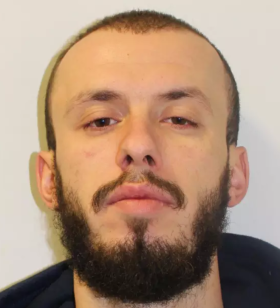 Krasniqi's involvement was supported by forensic evidence found on his clothing alongside "extensive" phone evidence.
DC Sanjeev Sharma, the investigating officer, said: "I am pleased we have taken a dangerous man off the streets of London.
"Trident officers work relentlessly to arrest and prosecute anyone who possesses an illegal gun. The significant custodial sentence Krasniqi has received reflects the seriousness with which the courts regard this crime."
Krasniqi was jailed for 10 years for wounding with intent and four years for the firearm offence. Both sentences are set to run concurrently.