Music on CD accounted for less than one percent of singles sold in the UK in 2012, as digital downloads grew to make up 97 percent of the market, according to figures from the BPI and Official Charts Company.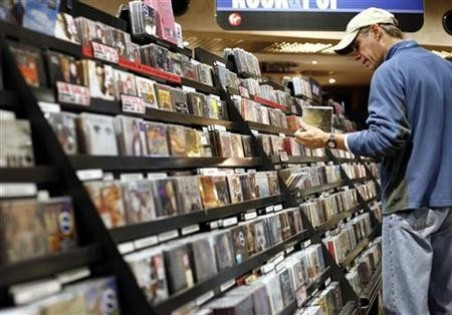 The report also revealed that the UK streamed more than 3.7 billion music tracks in 2012 from services like Spotify, which equates to 140 streams for every UK household.
Somebody That I Used To Know by Gotye ft Kimbra, Call Me Maybe by Carly Rae Jepsen, and Titanium by David Guetta ft Sia were the three most-streamed tracks of the year.
Digital downloads of singles from the likes of iTunes reached a new record of 183.3 million tracks for the year, compared to just 617,000 CD singles sales, a drop of 44 percent from 2011.
But it was a different story with albums, where the CD remained most popular, clocking up 69.4 million sales for the year, compared to 30.5 million album downloads.
Despite more than doubling digital albums sales, physical albums are on a sharp decline, with sales falling 19.5 percent since 2011, compared to a 15 percent rise for their digital counterparts.
Geoff Taylor, BPI chief executive, said: "2012 was an encouraging year for UK artists and for music's digital future. Digital albums grew strongly and singles sales hit a new record.
"The Jubilee celebrations and the London 2012 Olympics provided a great showcase for British music internationally, but market conditions at home remained difficult and pressure on the 'leisure wallet' impacted music sales on the high street."
The year saw strong growth in the digital album market, with 16 albums each selling more than 100,000 digital copies, while vinyl album sales made up for 0.4 percent of the market, or 389,000 sales in 2012, an increase of 15 percent on the previous year.
Since 2008, digital album sales have trebled from 10 million to 30 million, while CD albums have fallen from 123 million in 2008 to 69 million in 2012.
It was a similar story with singles, as CD sales fell from 4.1 million in 2008 to 617,000 in 2012, while digital singles sales jumped from 110 million to 183 million over the same time period.
BPI chairman Tony Wadsworth said: "British artists continue to resonate strongly with music fans in their home territory, with albums by Emeli Sande, Adele and Ed Sheeran topping the end-of-year charts.
Looking to the future, Taylor added that "the quality of our music and digital innovation by UK labels means we have excellent potential for domestic growth and to increase our share of the global music market.
"We hope Government will recognise the potential of digital music to contribute to economic recovery and provide more active support in 2013."