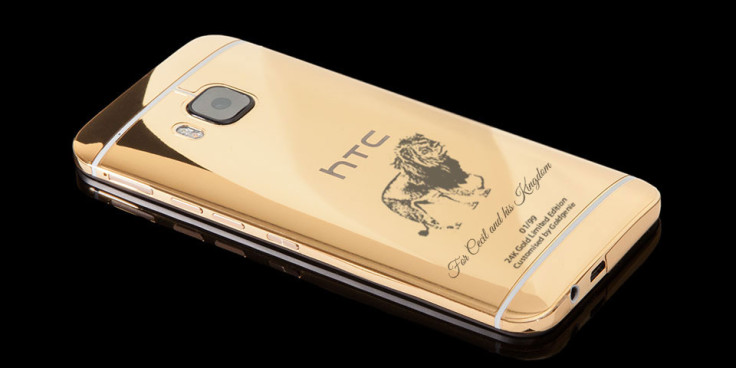 There are many ways to show your anger towards the American dentist who killed Cecil the lion in July, and your support against hunting generally. But buying a £1,580 gold-plated smartphone with an engraving of Cecil on its back is probably not one of them.
Goldgenie, London peddler of ostentatious gold-plated gadgets, ornaments, bicycles and just about anything you could think of, has produced 99 examples of a Cecil the Lion edition of its HTC One M9. A phone which can be bought with a gold coloured finish for just £430 online.
The company says 10% from every order (a heady £159, it was kind enough to round it up to the nearest pound) will be donated to Friends of Hwange, a charity local to where Cecil was killed and associated with the Hwange National park in Zimbabwe. Donating more than £15,000 to charity (assuming all 99 units sell) is a nice enough gesture from any company, but feels somewhat exploitative when Goldgenie will earn close to £100,000 profit from this venture, once the cost of the phones and gold plating (just a few microns thick, done in minutes, and surprisingly cheap) has been taken away.
A drawing of a lion is etched on to the back of the phone with "For Cecil and his Kingdom" written below. The phone is no different from Goldgenie's regular gold-plated One M9 (also available in rose gold) and costs the same, too.
It is also exactly the same in all but material as any other One M9 which you can buy on the high street for considerably less, leaving you with £1,000 to donate to a charity of your choice. And, best of all, without employing a shiny gold phone to show everyone how you selflessly chucked £159 into the Cecil pot. I bet buyers will tell everyone just how shocked and outraged they were at Cecil's death, and how proud they are to help such a worthy cause.
Far be it from me to tell the rich what to spend their money on – Goldgenie is a very profitable business and loved by many, as we found out when we visited – but drumming up publicity off the back of a story many feel so strongly about, then donating just 10%, feels wrong.
IBTimes UK has asked Goldgenie for a comment and will update this article when we hear back.
Update: Goldgenie responded to our request for comment, with a spokesperson stating: