A high court in Zimbabwe has thrown out the charges against a hunter and and founder of Zimbabwe-based Bushman Safaris who helped lure Cecil, one of Africa's most beloved lions, out of a national park for an American tourist to kill him with a crossbow and arrow.
American dentist Walter Palmer, a big-game hunter from Minnesota, was on hunting expedition in July 2015 when he killed the 13-year-old rare black-maned lion with a bow and arrow outside the Hwange National Park, the largest game reserve in Zimbabwe. The US dentist admitted he hunted the prized lion but claimed he did it legally.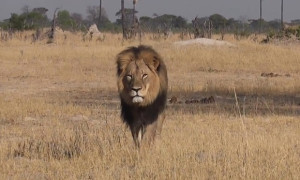 The incident sparked international outcry among environmentalists and rights activists and prompted a global campaign to ban lion trophy hunting.
Officials dropped charges against Palmer in October 2015, but local hunter-guide Theo Bronkhorst still faced the charge of "failing to prevent an illegal hunt", which he denied in a court in Bulawayo this morning (11 November). The court said the allegation was too vague for him to mount a proper defence.
Bronkhorst's lawyer, Perpetua Dube, is quoted by the BBC as saying the high court upheld the argument that, while the hunter-guide's offence breached the national parks regulation, it was not criminal in nature.
The 13-year-old lion had been a major tourist attraction, and was wearing a GPS collar for a research project at the time of its death.
Soon after the news over Cecil's killing spread across the world, Palmer apologised for the hunt. In interviews with the Associated Press and the Minneapolis Star Tribune, he said: "If I had known this lion had a name and was important to the country or a study obviously I wouldn't have taken it. Nobody in our hunting party knew before or after the name of this lion."
Following global outrage, Zimbabwe company Martin Nel Safaris decided to cancel its $1,500 (£1,021) 'Win a Lion' raffle, for which the raffle ticket winner would be allowed to kill a lion.