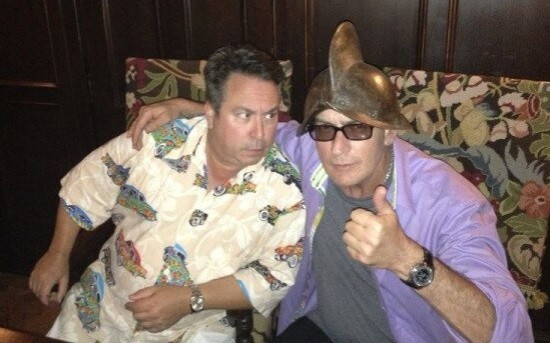 Hollywood actor Charlie Sheen swapped his California mansion for a castle in the Scottish Highlands in a bid to find the Loch Ness Monster - but went home without bagging his game.
The Anger Management star flew in from America on his private jet to join the hunt for the mythical beast that has eluded monster-hunters for decades.
Sheen, 47, revealed his mission to find Nessie on Twitter by posing for a snap wearing a bronze battle helmet, along with actor friend, Brian Peck.
He told his 9.7 million fans: "Once again MIT [Massachusetts Institute of Technology] grant-sanctioned archeologists Pekk & Sheen, rig battle gear for tonight's sortie on Loch Ness."
He was inundated with messages of support from fans.
One wrote: "It's about time Nessie was found. Thanks Charlie."
Another said: "U are two great archeologists. Let's get ready for #lochness and take me with u!! :)"
Sheen, who was sacked from sitcom Two and a Half Men after a meltdown in 2011, stayed at the historic Aldourie Castle, on the shores of Loch Ness with Todd Zeile and Peck.
The castle's general manager, Lavinia Turner, said the legendary hellraiser and his friends went out on the loch.
She said: "All I can say is that Mr Sheen and his party were perfect guests and thoroughly enjoyed their trip.
"They had a wonderful and relaxing time but unfortunately didn't see any sign of Nessie although I'm sure they'll be back in the future to try again."
Sheen, who has battled drug and alcohol addiction, previously claimed to be a "warlock" and a "rock star from Mars" who can cure diseases with his mind.