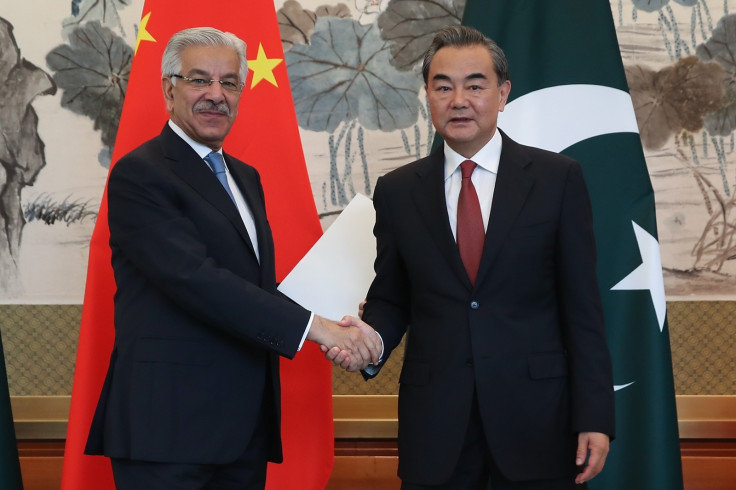 China is reported to have taken a U-turn in its stance by defending Islamabad on the issue of fighting terrorism, just days after it joined other nations in condemning terror groups operating out of Pakistan.
Expressing its unequivocal support to Pakistan, China on Friday (8 September) said its all-weather ally had done "its best with a clear conscience" to fight terrorism and had made "great sacrifices".
The development comes three days after China, along with Brazil, Russia, India and South Africa associated Pakistan-based Lashkar-e-Taiba (LeT) and Jaish-e-Mohammed (JeM) with global terror groups like Islamic State (Isis) and al-Qaeda.
The declaration, the first time during a Brics (Brazil, Russia, India, China and South Africa) summit, is thought to have marked a significant diplomatic win for India as it has long been struggling to counter cross-border terrorism.
However, by coming out in support of Pakistan, China has gone back on the Brics declaration that said any nation that is found supporting terrorist acts must be held accountable, Indian media reported.
Some countries needed to give Islamabad "full credit" it deserved for its role in fighting terrorism, China's foreign minister Wang Yi said, in a veiled reference to India and the US.
"The government and people of Pakistan made huge efforts and sacrifice on the fight against terrorism... The international community should recognise that," Wang said.
His comments came during a joint press conference he addressed with visiting Pakistani counterpart Khawaja Muhammad Asif.
"Instead of blaming each other, countries need to work with each other. When it comes to counterterrorism, we believe Pakistan has done its best with a clear conscience.
"Pakistan is a good brother and iron friend of China. No one knows Pakistan and understands Pakistan better than China," Wang added.
Identifying LeT and JeM among groups causing violence and security concerns at the Brics summit was seen as a big concession by China, which in the past has continuously stymied India's efforts to get JeM's chief Masood Azhar designated a global terrorist by the UN.
Azhar is the alleged mastermind behind the 2016 deadly attack on an Indian Air Force base in Pathankot, situated the northern state of Punjab, that killed at least seven Indian soldiers.