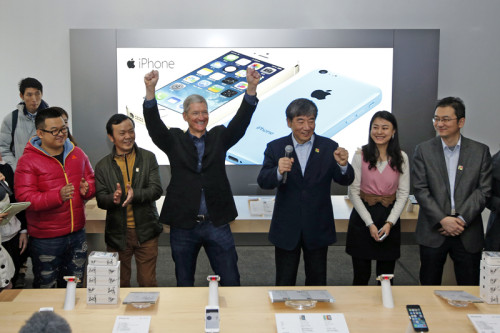 Following six years of negotiations with Apple, China Mobile, the world's largest mobile operator with 740 million subscribers has finally launched the iPhone.
The move is an important one for both companies – Apple's iOS has been trounced by Android in global market share, although Apple still makes more money from its devices; while China Mobile's competitors China Unicom and China Telecom are slowly creeping up behind, and they're already selling the iPhone.
So important is this deal for Apple that chief executive Tim Cook put in a personal appearance in Beijing at China Mobile's launch event, meeting fans and autographing iPhones.
"Great relationships are not built on always agreeing, they're built on mutual respect, and they're built on trying to see the issue from the other lens and I think the time that we spent in allowing that to occur will be great for both companies, and more importantly for the customers that we both serve," he told the Chinese press in a Q&A session at the Beijing launch event.
Since the operator began taking pre-orders online on 25 December 2013, about 1 million iPhone units have been ordered.
However, China Mobile's packages are much more expensive than its competitors as it is the only operator in China that has a TD-LTE network, i.e. an advanced 4G network with even faster speeds than 4G LTE.
A free iPhone will only be offered with its most expensive data plan, which requires customers to commit to a two-year contract costing a minimum of 588 yuan (£59, €71).
China Unicom subscribers are eligible for a free iPhone 5s if they commit to a 30-month contract for £38, while the best deal is on China Telecom with a two-year contract for £39 with a free iPhone 5s.
Despite the higher cost, China Mobile might well sell 10 million iPhones in 2014, according to estimates from HSBC and IDC, as the mobile operator will be bringing the iPhone to cities where it has previously been unavailable, adding 3,000 more locations onto the list.
Android devices currently hold 66% of the smartphone market share in China, according to stats from research firm Umeng, but Tim Cook is not concerned.
He told the Chinese press at the Beijing launch event that Apple has sold 10.4 million iPhones in the Greater China market, which is the most it has ever sold.
Many diehard Apple fans have already bought iPhones in China on the grey market, where people buy Apple products from overseas and bring them back to China to sell, but Apple's decision to select China as a launch market for its iPhone 5s and 5c may have improved this situation.
Latest data from research firm NDP Group released today has found that Apple has gained the lead on Samsung in the last quarter to gain 42% of the US smartphone market share.