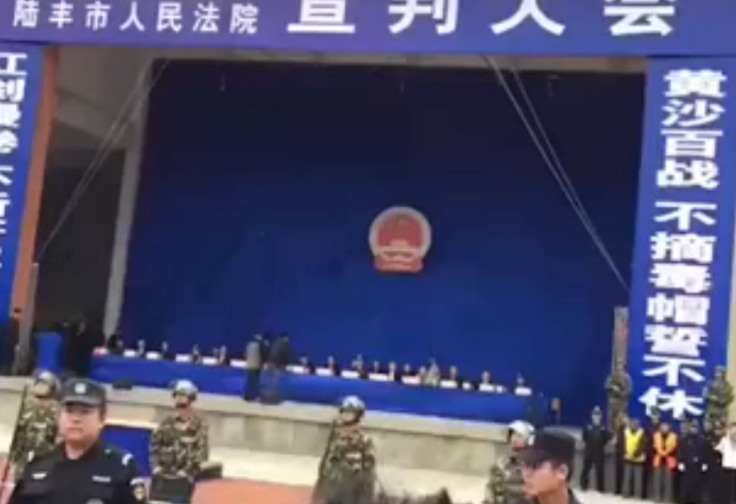 A court in China sentenced 10 people to death in front of thousands of onlookers, including schoolchildren, before they were then taken away to be immediately executed.
The group were brought before a crowd at a sports stadium in the city of Lufeng, southern Guangdong, on Saturday (16 December), just days after officials had advertised the public sentencing to local residents on social media.
A video posted online shows the convicts standing in the arena with their arms behind their backs and flanked by police officers.
An announcer can be heard addressing the stadium over loudspeakers as the convicts are paraded to the crowd, some of whom were reported to have been wearing school uniform.
After being sentenced to death, the group are then led away on the back of police pickup trucks that drive off with sirens blaring.
Some 12 people were brought to the stadium for the public sentencing, 10 of whom were given the death penalty.
Seven were found guilty of drug crimes, while others faced murder and robbery charges, local media reported.
It comes after state media reported similar scenes just five months earlier when eight people were publicly sentenced to death in Lufeng, which has become the focus of anti-drug trafficking police operations.
In 2014, a village near Lufeng was raided by anti-drugs police and border guards, who seized three tonnes of crystal meth. Nearly 200 people were detained at the time.
While public sentencing is rare in China, the spectacles are intended to remind the public of the government's hard stance on illegal drug production, sale and trafficking.
But leading human rights group Amnesty International has condemned the practice as "tragic and barbaric".
"Despite China continuously executing hundreds if not thousands of people per year for drug-related offences, China is actually experiencing a growth in drug manufacturing and trafficking – which obviously shows the limitations of the 'kill the monkey to scare the chickens approach'," Amnesty researcher William Nee said earlier this year.
"China should immediately end the use of the death penalty for offenses that do not meet the threshold of 'intentional killing' in international law, and devise other ways to tackle the drug problem that don't perpetuate a cycle of violence."
China executes more people every year than the rest of the world combined, according to human rights groups.
Beijing does not release statistics on its use of the death penalty, which are considered a state secret, but last year the country is thought to have executed 2,000 people, according to estimates compile by the US-based NGO Dui Hua Foundation.
The country maintains the death penalty for both violent and non-violence offences, such as drug trafficking and economic crimes.
The world's second most prolific executioner is Iran, according to Amnesty International. The country's hard-line Islamic regime is thought to have put to death at least 567 people last year.