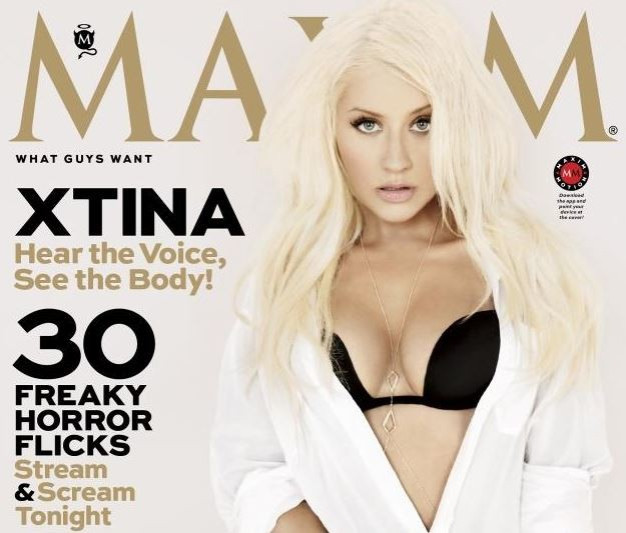 American singer Christina Aguilera flaunted her toned figure on the cover of Maxim's October issue.
The 32-year-old five-time Grammy Award winner is seen posing in an open white men's shirt, exposing her black bra.
"I'm such a down-to-earth girl, I'm comfortable in just a jersey and boy's underwear," she said, "Trying too hard to be sexy is the worst thing you can do. Sexiness should be effortless."
The Feel This Moment singer was married to music marketer Jordan Bratman in 2005 and has a son named Max Liron Bratman together. However, the two filed for divorce in October 2010. The Voice judge who has been dating Matt Rutler since three years, also revealed what a guy should not to do to catch her attention.
"The quickest way for me to feel weird and run for the hills is if somebody sits down and serenades me with a guitar. It's not my thing," Aguilera said, "I love genuine guys; that's why I pretty much stay away from celebrities. I don't care about money, because, trust me, I can support myself."
Aguilera gave an interesting reply when asked which Disney co-star was cooler back in the day, Justin Timberlake or Ryan Gosling.
"They were both very charismatic, but I think I have to shy away from the question. I don't want this to bite me in the butt later. They were tight, you know. They'd walk around together all the time, same as me and Britney [Spears] would. Now look at us. It's funny how that played out," she said.
The magazine hits the newsstands on 17 September.