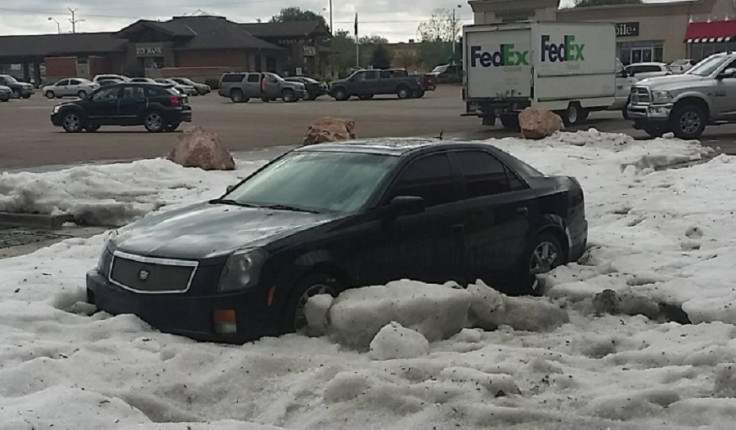 A violent hail storm in the US state of Colorado sent golf ball-sized balls of ice crashing into cars, homes and caused an estimated $500,000 (£378,000) damage to a local airport. The brunt of the storm was felt at the Colorado Springs Airport which was left with damaged runway lights, canopies and skylights in its terminal.
The airport said that the storm caused between $300,000-$500,000 in damage to airport facilities with one flight cancelled and others delayed. Numerous vehicles in the area were also left damaged by the huge hailstones
As travellers checked flight details local residents joined forces to remove the mounds of ice that had amassed during the storm which lasted hours. The persistent hail piled up like snow and firefighters in the area were forced to put out a house fire caused by a lightning strike.
A Colorado Springs police spokesman said that the hail knocked 27 police cruisers out of service as the storm intensified from Thursday afternoon into the night. Resident Krystal Taylor told CNN the hail was strongest around 11pm.
"Being in our house, all we could hear were these loud smacks all around our home from (this) tennis-ball size hail being thrown at our house from above," she told the news network. "It was loud crashing all around the house. Lightning, thunder and hail can be a scary mix."
The CNN Weather unit said the region received 30 reports of hail with hailstones more than 2 inches in diameter reported in the area. And Colorado is ranked second in a list of states with the most hail loss insurance claims just after Texas, according to a report from the National Insurance Crime Bureau.
She added that her: "neighbours shovelled and worked together to get the hail out of the streets so people in the neighbourhood could drive safely".
On 6 June severe thunderstorms hit Denver, Colorado causing golf-ball-sized hail to fall in the area of Highlands Ranch which damaged cars and property. The National Weather Service declared a severe thunderstorm warning that brought lightning strikes, torrential rains, flash flooding and winds of up to 60 mph.