Conor McGregor is more than capable of knocking Floyd Mayweather out, according to the Irishman's striking coach Owen Roddy.
McGregor will take on Mayweather in just over two months on 26 August after their big money boxing fight was confirmed last Wednesday (14 June).
The general consensus in the combat world is that Mayweather will end up coming on top, having been undefeated in his professional career (49-0 record in boxing) while McGregor has no boxing experience whatsoever.
However, there have been many times where the "Notorious" has been told he could not do something — dethroning Jose Aldo, defeating Nate Diaz and becoming a two-weight world champion are just some examples.
And that is why Straight Blast Gym (SBG) coach Roddy believes McGregor can defeat "Money."
"I have no doubt in my mind he's gonna do it," Owen Roddy said on The MMA Hour. "I think it's gonna be one of the most insane nights ever."
"It's a tall task. But if anybody could do it, Conor can. He shocks the world every time. Every time he fights he's doubted, people are like, 'You cant do this, you cant do that.' We know what Conor is capable of. Conor does it every time."
Roddy has not just predicted a win either for McGregor. He sees him doing something that no one has ever done in boxing history — knocking out Mayweather.
"I think he's gonna put him away," Roddy added. "I think he's gonna KO him. I think it'll take a couple of rounds. And I know my phone is about to explode, I'm sure."
"But look, Conor does these things. He does these exceptional things all the time. If he says he's gonna go in and knock him out, I think he's gonna go in and knock him out."
With Roddy training and fine tuning McGregor's boxing skills, the fellow Irishman revealed as much as he could on how the 28-year-old will be able to knockout Mayweather.
"I don't really want to get into details on what we're looking to do," he explained. "But, I mean, nobody is perfect. Nobody is perfect."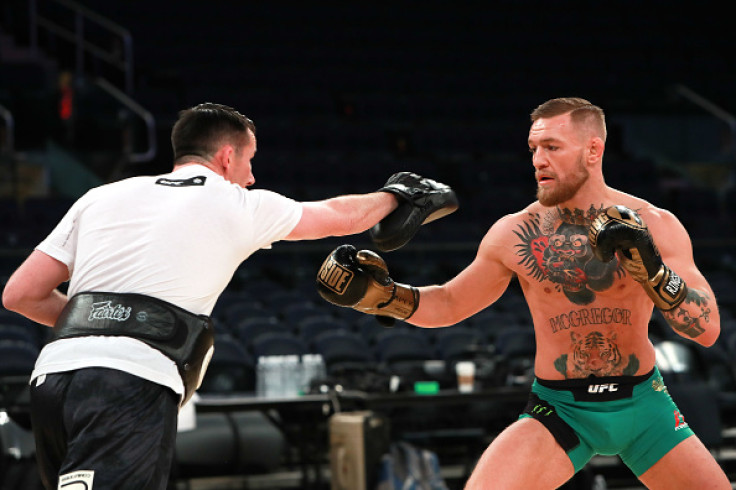 "[Mayweather is] unbelievable defensively, he's pound-for-pound one of the greatest, but everybody has holes, everybody makes mistakes, everybody has predictable patterns that they do over and over again.
"I think mid fight. I think a couple of rounds in. We need to see what Mayweather is gonna be coming with. Conor has an exceptional ability to read fighters. Read fighters and where they're going and read what they do. He can do it really, really quickly. I think it's just about him figuring out where Mayweather is gonna be on said shot and then putting the appropriate shots to catch him.
"Conor hits like a middleweight. You can ask any of the middleweights in our gym. He hits as hard, if not harder. It's strange. He's got cat-like reflexes. He's so quick on his slips and his pulls. He's very accurate as well. I think he's gonna slip and fire and Mayweather will be on wobbly legs. It might be a counter, too. That's what I see. That's what I see in my head."