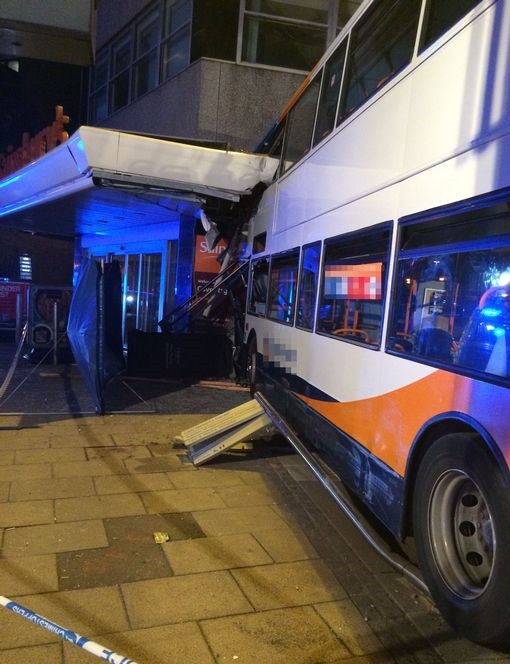 A nine-year-old girl is in a critical condition after a bus crash in Coventry which left an eight-year-old boy and a pensioner dead. The double-decker bus hit several stationary cars and a lamppost before ploughing into a Sainsbury's store in Trinity Street at around 6pm on Saturday (3 October).
Six people, including a child, were taken to hospital. The girl, who was on the upper deck of the bus, suffered serious injuries to her face, head and leg. She remains in a critical but stable condition in hospital. Two other casualties also remain in hospital.
The boy and the pensioner, a woman in her seventies, died at the scene. A police spokesman said: "An eight-year-old boy from Leamington, who was travelling on the top of the bus, died at the scene as a result of his injuries. A woman from Nuneaton, believed to be in her 70s who was a pedestrian in Trinity Street, also died at the scene."
Just moments before the bus careered into the supermarket, the bus driver was heard honking his horn, desperately trying to warn people.
An eyewitness claimed the double-decker bus had been travelling at speeds of up to 60mph. A taxi driver who witnessed the crash said: "I was sat in my cab waiting for fares. I saw in my rear mirror one bus was stationary at a bus stop letting off passengers when another bus roared past it. It veered across the road and mounted the pavement and went over some grass.
"It hit a lamppost and shifted so it was pointing right at Sainsbury's then it just went in a straight line, very fast. It travelled for about 100 metres and I would say it was travelling at 50mph or 60mph. I think the speed limit is 20mph. It was about a metre away from my cab door. I panicked and ran and then I heard the crash. It is so terrible. I am still in shock."
After the crash, the driver was reportedly pulled from his cab 'looking dazed and confused'. It is believed he suffered a cut to his nose and was treated for minor injuries. He is being supprted by specialist investigators.
Local residents have left floral tributes and messages of condolence at the crash scene in honour of those who died.
Superintendent Paul Keasey, head of the Central Motorway Police Group, said: "Our thoughts are with those affected by this evening's tragic event; we have specially trained officers with the families at this difficult time.
"We hope to carry out a swift investigation and I would like to thank people who have already come forward who witnessed the collision."