A right-wing mayor in Hungary has published an unsettling video to warn refugees to stay away from the country. With the slogan "Hungary is a bad choice, Asotthalom is the worst", black-clad Laszlo Toroczkai addresses "illegal" immigrants saying they may easily end up in prison and on the country's blacklist if they try to cross the border illegally.
While music that would not be out of place in an action film plays in background, Toroczkai is depicted while assessing the situation next to the infamous border fence accompanied by border guards wearing shades and camouflage trousers.
"From now on, the borders of Hungary are protected by a fence that is continuously being built by thousands of policemen and by the Hungarian army," he said, referring to the 10ft (3.5m) barrier built on the country's frontier with Serbia. "On the territory of Asotthalom they are supported by the militant field guards and civil guards."
Guards are then shown while riding motorbikes, on helicopters, 4x4 vehicles and on horseback. Then, over a Google Map showing migration routes, the mayor says: " "If you are an illegal immigrant and you want to get to Germany then the shortest journey from Serbia is through Croatia and Slovenia. Do not trust lying human traffickers."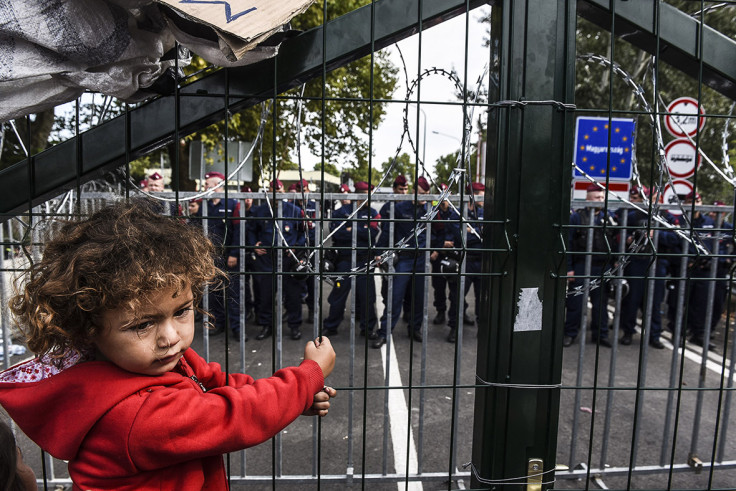 The video comes as Hungary has begun to build a 25-mile (41km) razor wire fence with Croatia in another radical bid to stop an influx of desperate migrants to the country. Hundreds of soldiers are also being deployed at the scene, causing further criticism from Croatia and aid agencies.
"We must implement the same measures as on the Serbian-Hungarian border," Hungary's far-right PM Viktor Orban said. The east European country also passed a strict emergency law and empowered its police and military to deal with arriving asylum seekers.
The resulting violent crackdown on refugees by security forces has provoked widespread international condemnation. In particular, Hungary's decision to launch tear gas and fire water cannons at refugees trying to cross its border was criticised by the UN high commissioner for human rights, Zeid Ra'ad al-Hussein.
"The images of women and young children being assaulted with tear gas and water cannons at Hungary's border with Serbia were truly shocking," he said.
But Orban was undeterred by criticism and announced the deployment of hundreds of troops on the border to stop the western Balkans migrant route. "Forces are being redeployed, 600 soldiers are already at the scene, 500 will arrive there in the course of the day, and several hundred at the weekend," he said. "Two hundred police have been assigned to the Croatian border. There will be no sandhill or molehill to hide behind, we will defend our borders."